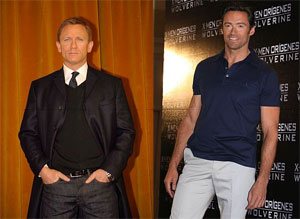 Daniel Craig (aka James Bond) and Hugh Jackman (aka Wolverine) are set to team up in a new dramatic play, A Steady Rain, this fall on Broadway.
The play, by Keith Huff, is about two Chicago cops whose lifelong friendship is put to the test when they become involved in a domestic dispute in a poor neighborhood.
Although Craig began his career doing theatre in London, this will be his Broadway debut. But Jackman, a Tony award winner for The Boy From Oz, is no stranger to the stage.
Jackman gave audiences worldwide a taste of his love for live performances when he hosted the Oscars this year proving his singing and dancing talents. But even though that left audiences clamoring for Jackman to star in a musical, he wanted to do a Broadway drama.
According to the New York Post, Craig and Jackman have the potential to match Broadway's biggest box-office champ, Julia Roberts, who sold over $10 million worth of tickets in just 12 weeks for the play Three Days of Rain in 2006.