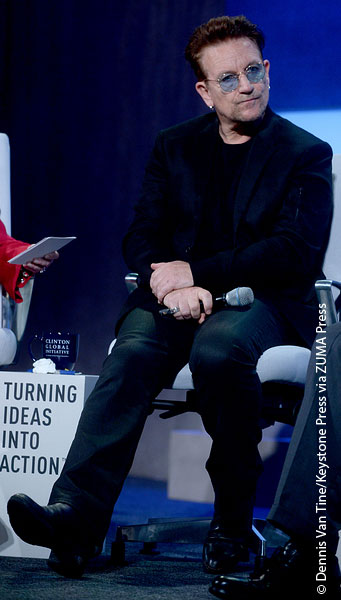 U2 frontman Bono has a wealth of credits to his name, including Grammy winner, Golden Globe winner, businessman and philanthropist. He's also now the first man named to Glamour magazine's Women of the Year list.
Glamour has announced that the musician will be honored primarily for his humanitarian work, specifically his efforts on the Poverty Is Sexist campaign. which seeks to help women in some of the world's poorest communities.
With his inclusion on the list, he becomes the first man in the awards' 27 year history to earn the distinction.
Since Glamour publicized this year's list — which also includes Gwen Stefani, Zendaya, American gymnast Simone Biles, UN ambassador/anti-ISIS campaigner Nadia Murad, French finance minister Christine Lagarde and the founders of the Black Lives Matter movement, among others — the magazine has been criticized for its decision to honor Bono.
But the team is steadfast in its choice, defending its list on its website. It's said that while the advisory board and editorial team "has [previously] put the kibosh on naming a Man of the Year on the grounds that men aren't exactly hurting for awards in this world and that here at Glamour, the tribe we're into celebrating is female…when a major male rock star who could do anything at all with his life decides to focus on the rights of women and girls world-wide — well, all that's worth celebrating."
Additionally, BBC reports that Glamour's editor-in-chief Cindi Leive spoke out on her own. She said, "There are so many men who really are doing wonderful things for women these days. Some men get it and Bono is one of those guys."
She continued, "The idea that a man who could select any cause in the world to call his own, or no cause at all, is choosing to work, and not just for one night or at a special event, but consistently day after day and month after month on behalf of women, is incredibly cool and absolutely deserves applause."
The 56-year-old Irishman seemed just as surprised as the public when he learned he was named to the list. He commented on the news to Glamour, saying, "I'm sure I don't deserve it. But I'm grateful for this award as a chance to say the battle for gender equality can't be won unless men lead it along with women. We're largely responsible for the problem, so we have to be involved in the solutions."
Despite some of the backlash the magazine has received as a result of naming Bono to the list, it has its fair share of supporters as well.
CNN's chief international correspondent Christiane Amanpour has written an article in praise of Bono, saying, "I'm on Glamour's side: I think Bono is the perfect choice for this first-time honor because, now 56, he's been trying to do good for as long as he's been making music. By establishing Poverty Is Sexist, Bono is making it clear that powerful men can, and should, take on these deep-rooted issues."
What do you make of the call to include Bono on Glamour's Women of the Year list? Let us know! ~Matthew Pariselli