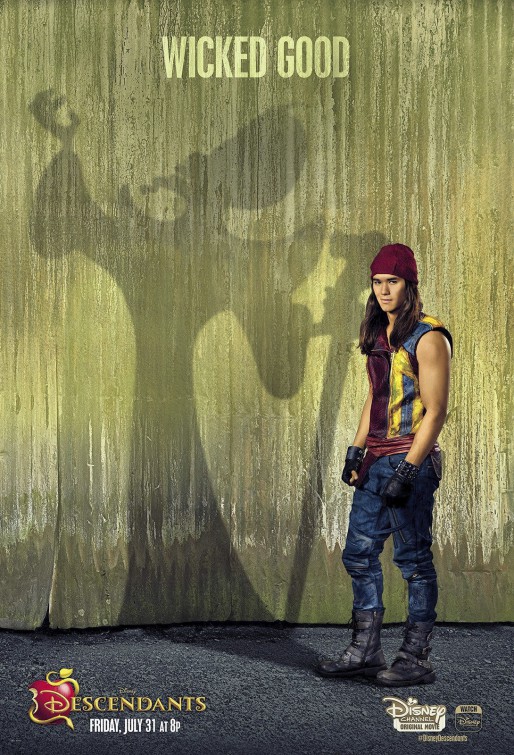 Booboo Stewart, better known as Seth Clearwater from the Twilight franchise, has been keeping busy. He will be seen in the new Disney Channel movie Descendants, playing Jay, son of the Aladdin villain Jafar alongside Disney Channel stars Cameron Boyce and Dove Cameron.
With a new role and a fun cast, Booboo was happy to chat about the film, about how the success of Twilight has changed his life and how he deals with fandom. Descendants premieres on Family Channel on July 31 at 8 p.m.
I am still a huge fan of Twilight and Seth was such a great character. What's life been like for you after the success of that franchise?
It's been great. It opened a lot of doors and opportunity, doing different films and projects, it gave me an opportunity to choose, which is really cool. Not a lot of actors get to do that, but it opened it up for me. Fandom and things like that, I think it has been a nice way of getting me ready maybe for Descendents.
Tell me about your role in Descendants.
I play Jay – a very physical person who's good at sports. He is the son of Jafar, so he loves to steal. He'll steal anything, which makes it very funny. I mean he's always trying to be the best at what he does. I like that about him.
Do you share any similar characteristics with him? I'm guessing not the stealing part.
Hopefully, not the stealing part. I like that he always tries to be the best at what he can be, which is pretty cool, I would like to have more of that.
How did you land this role? Did you have to audition for it?
Yeah, there was a process of going through it like any film. In general we were mixing and matching with the other person, who was going to be who. We were doing a scene where there was a magic carpet, where I actually brought a bag with a carpet in it and a whole bunch of stuff I stole from my own home. (Laughs) That was really fun!
What was it like shooting with the cast, because recently we spoke to Mitchell and he said that you and Jedidiah Goodacre did some crazy things.
(Laughs) Yeah, we had a really fun time, working with the cast was great. I think Mitch is in town now – I was going to see him the other day. We were just having fun on set and off.
Do you have a favorite scene in the film?
There's a nice number at the end but I don't want to give it away – but everyone will know once they see it.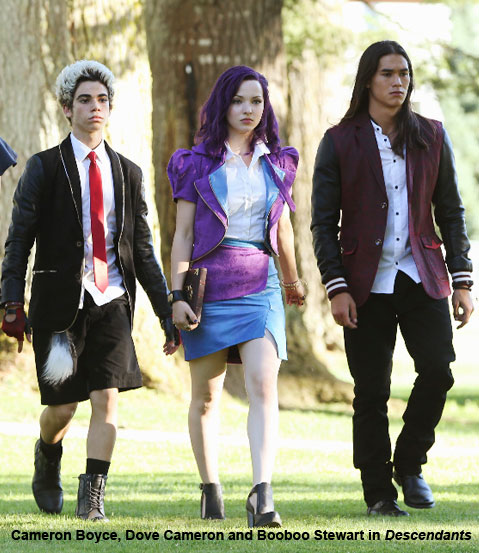 If your life were a movie, what would it be and who would be playing you?
I mean the person to play me wouldn't be born yet because I have a lot to do before. I would continue with my acting life, I don't know if that would make a really good movie.
What's your favorite Disney movie growing up?
Tarzan. I really enjoy Tarzan and A Bug's Life.
I also read that you're a stuntman and a martial artist. Do you perform your own stunts in movies?
Yes, in Descendents I had to do pretty much all the stunts. It was great, I grew up doing stunts, my dad was a stunt coordinator and so I've grown up on set watching stunts and things like that. That's how I got into it. I love martial arts, I go every Friday when I can to train. I love it.
What kind of stunts have you performed for this movie?
A lot of acrobatics, like flipping off things and avoiding getting hit. Jedidiah and I, he plays Chad Charming in the movie, we were doing this one piece in a scene and we hit each other. We were like tackling each other and while we were filming it, I hit him so hard, the shield broke. (Laughs) It was epic.
Since you appeared in X-Men, if you could have any superpower, which one would it be and why?
I would just like to be a wizard.
What's next for you?
Next for me, I have a film coming out August 8, sometime around there, it comes out on DVD and is called The Last Survivor. I play a character dying of kidney failure living in a world where the world has run dry of its water supply. I'm off to film a movie which is an '80s, coming-of-age film. That would be really fun to watch and stuff.
Looking forward to that! Have you had any crazy fan experiences with the success of Twilight and X-Men?
Yeah, I get a lot of fun ones. The craziest one would be with a group of people and the craziest thing would be when someone cries, stuff like that happens and puts you in an awkward situation because you don't know what to do.
Has someone actually come up to you and started crying?
Oh yeah. People will cry, I don't know, it's interesting. I try to think of somebody who I would cry over but I don't think I would cry over anybody.
How do you deal with that?
You kind of just try to be there for them in a weird way. It's kind of interesting you don't know what to do. It becomes awkward!
Thank you so much for taking the time to chat with us.
It was really fun. Thank you.
~Marriska Fernandes