Book Club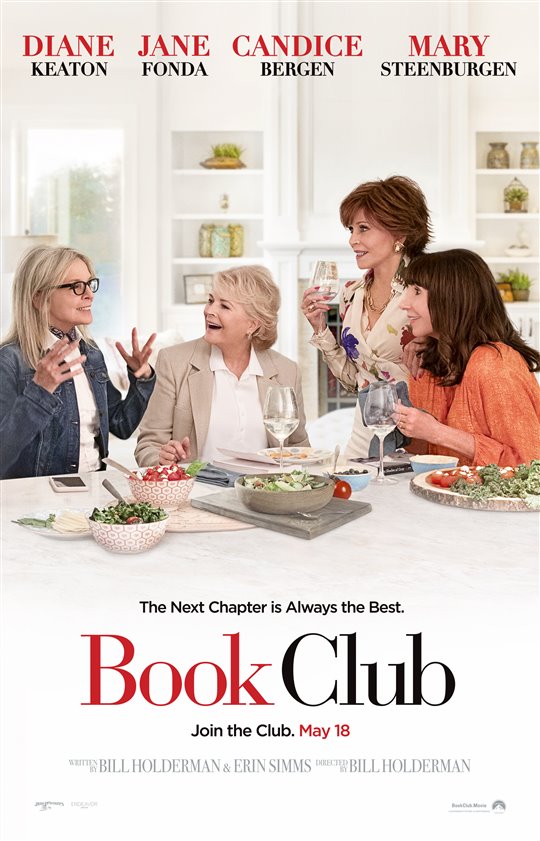 is about four lifelong friends who gather once a month for their Book Club. Each of the women has something in her life that she needs to set right. Vivian (Jane Fonda), a wealthy hotel magnate, has been ignoring love for most of her life. Sharon (Candice Bergen), a Supreme Court justice, still hasn't gotten over her divorce. Carol's (Mary Steenburgen) longtime husband shows no interest in her. Diane (Diane Keaton) is a widow whose grown daughters treat her like she's in her 90s.
Having read Wild the month before, but feeling unable to relate to it, Vivian decides to introduce the women to Christian Grey – the handsome title character of the bestselling novel Fifty Shades of Grey. The other women protest her choice at first, but each one eventually gives it a chance.
They're enchanted by the love story and the descriptions of Christian and Ana's intimacy capture their imagination. Each one finds herself inspired by the book. Sharon decides to try online dating. Diane meets a man on a plane. An old flame of Vivian's shows up and although she tries to fend off his advances, she's charmed by his attention. Carol hilariously tries a number of ways to get her husband (Craig T. Nelson) to pay attention to the fact that although he's retired, he's not dead yet.
Interspersed throughout the movie are hilarious references to the Fifty Shades books, as the women get more and more into them and embark on the second book in the trilogy, Fifty Shades Darker. There's even a laugh-out-loud cameo by author E.L. James and her screenwriter husband, Niall Leonard.
Although it's not a requirement to have read the Fifty Shades books in order to find this movie as hilarious as it is charming, fans of the books will especially enjoy it, as well as the moviegoers who are most often ignored by big movie studios — women over 40.
The four lead actresses, who surprisingly have never worked together before, show incredible chemistry and extraordinary comedic timing. You may leave the theater wishing you were a member of their book club. To have all four of these extraordinary talents in one movie is a treat that shouldn't be missed on the big screen. ~Alexandra Heilbron