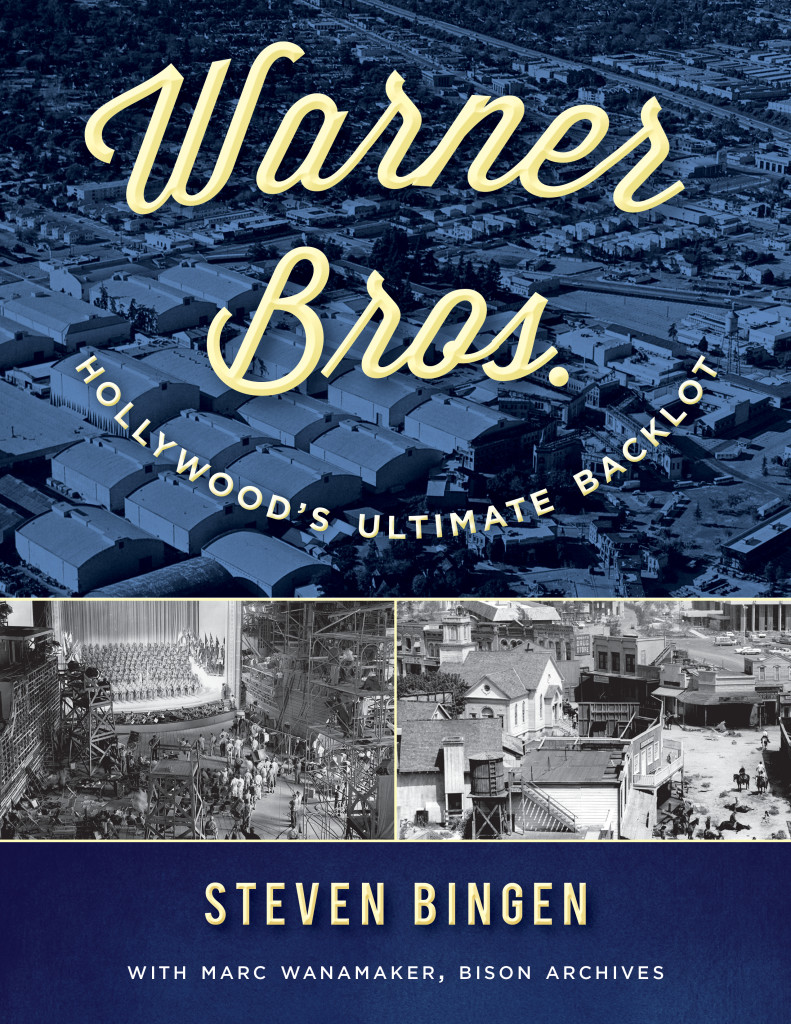 Warner Bros.: Hollywood's Ultimate Backlot works tirelessly to reveal the historical and cinematic history of the infamous movie studio. Steven Bingen, the same creative genius to produce MGM: Hollywood's Greatest Backlot, spins a tale of movie magic and takes readers through a "studio book tour."
Bingen is aided by his personal history of acting as a tour guide at the Warner Bros. studio as well as serving as a staff historian. He incorporates a fun, eloquent prose into the text, the way he would as a guide a tour of the lot. He also features maps scattered throughout the text, colorfully marking soundstages and backlots.
Take a look at the infamous New York Street in the grand backlot – the "Embassy Courtyard" stood in for Buckingham Palace in Eraser (1996) and Washington D.C. in Thirteen Days (1999.) The Courtyard, in conjunction with the hotel set next door, has staged Gotham City at least three times, in the television series Batman (1966 to 68), Batman Forever (1995) and The Dark Knight (2007.) The history of this one location is insurmountable. After extensive set designs, viewers would never know this one spot housed three varying interoperations of the same hero. The magic of the studio also creates the effect of another country, without ever having to leave Hollywood.
Bingen has previously stated that he works to reveal the secrets behind movie magic. Though there have been books written about studios and the creation of movies, there was a void pertaining to the meaning and history of the space. Bingen, together with his team of writers and researchers, carefully analyze the history, evolution and meaning of the lots, as they have played host to a large number of television shows, shorts and films. The work that goes into a film is often just as big as the film itself. Although viewers have travelled to the studio via movies, the book permits an opportunity to marvel in the meaning of its space. The book also provides an appendix of production shots, as complete as possible granted the history of the studio, commencing as early as 1928.
Although in his first book, MGM is explored as an entity that no longer exists, Bingen was able to reconstruct the majestic studio and expose never-before seen photos and maps. With Warner Bros., the studio is very much alive. Patrons who travel to the lot can still see the remnants of lavish dressing rooms. The book permits the opportunity to travel back and discover the history associated with the sets and buildings. There's good chance the office space producer Joel Silver uses was a part of the grand bungalow Marion Davies had constructed back on the MGM lot. How did it get to Warner Bros.? Delve into the history and discover the magic for yourself. The hardcover book, which includes a foreword by Doris Day, is published by Taylor Trade Publishing, has 276 pages, 104 B&W photos and 46 color photos. The list price is $29.95. The e-book is available for $14.99. ~Nadira Chand