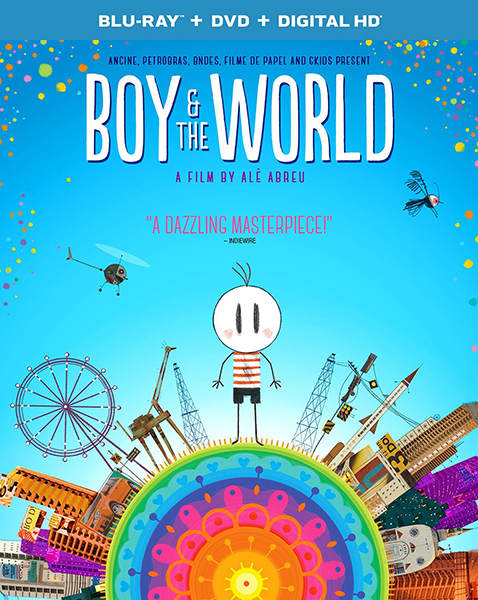 You don't see something like this every day.
Boy and the World is Alê Abreu's ambitious attempt to tell the story of Cuca, a little boy searching for his father, without the conventional use of dialogue. Oh there's dialogue, but it's in a made-up language.
The plot of the movie is that Cuca is searching for his father. Boy and the World is an impressionistic film — to put it more plainly, it's more about the emotions conjured by the images than rigidly following the rules of Hollywood screenwriting. For this reason, as well as the fact that the film has no intelligible dialogue, Boy and the World may not be for everybody.
I found the hand drawn animation style refreshing and brilliantly paced. It starts out simple, almost like a child's drawing. As the film's first act sends Cuca on his journey, Abreu's magical realism takes flight. Flower petals dance, trains comes to life and the sky turns every color imaginable except blue.
Boy and the World is a difficult film to review because it's not very tactile. What is there for me to grab on to? I can't criticize or praise the plot because that's not what the focus is on.
The film progresses so gradually that over the course of 80 minutes Boy and the World goes from being something a kindergarten child might conceive into a kaleidoscopic wonderland. In my opinion, Boy and the World deserved its Academy Award nomination.
I would still only recommend it for the more adventurous moviegoer. If you love animation and visual storytelling, then Boy and the World is perfect for you. On the other hand, if you're looking for a movie to entertain your children you should probably look for a movie with a little more coherence.
The Blu-Ray comes with bonus features. The Making of Boy & the World, Music Video: Aos Olhos De Uma Criança by Emicida and the Theatrical Trailer.
Have you seen Boy and the World? Click here to write your own review. If you haven't, is this a movie you'd check out? Leave your thoughts on the movie in the comments. ~ Yanis Khamsi