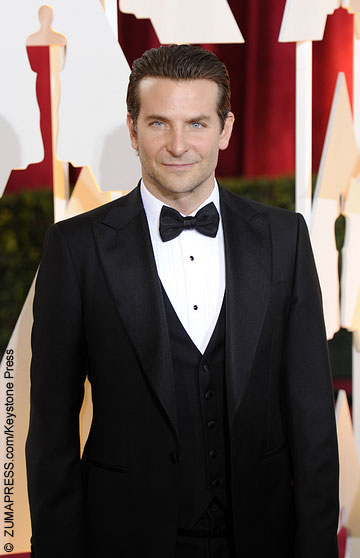 If you love Bradley Cooper, we have good news for you — The American Sniper star is on the market again. He and his girlfriend of two years, Suki Waterhouse, have officially split.
The pair first made their debut as a couple during the New York premiere of American Hustle in 2013. Suki was Bradley's date for the occasion. Reports say Bradley and Suki decided to take a break due to heavy work schedules — which seems more than likely. Suki has a role in The Divergent Series: Insurgent, which hits theatres today, and she is currently filming Pride and Prejudice and Zombies. Bradley has three movies occupying his time – Aloha, Untitled John Wells project and Joy – as well as the eight-episode Netflix series reboot, Wet Hot American Summer: First Day of Camp. He's also co-producing the comedy Arms and the Dudes. And we thought our workloads were heavy!
Bradley and Suki are reportedly on good terms, however. Even though they reportedly broke up before the Oscars, they still attended the ceremony as friends. Reps for both Bradley and Suki have declined to comment.
Do you think they'll get back together? Or is it over for good? We love your comments, so let us know what you think! ~Sandra D. Sukraj