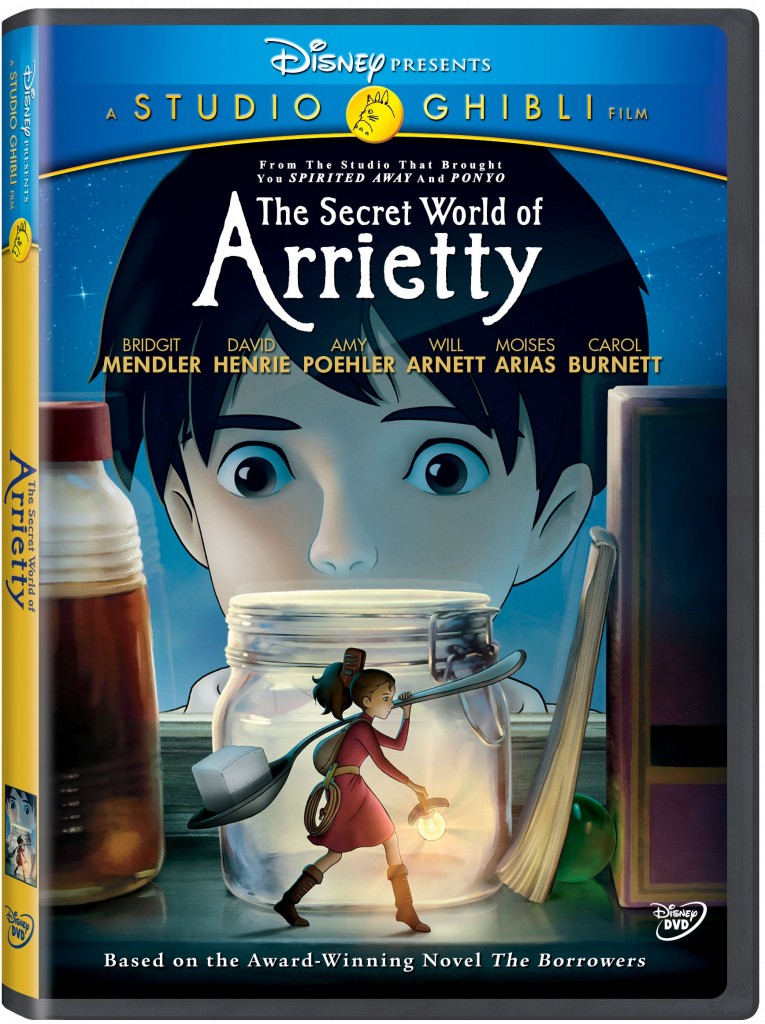 Bridgit Mendler is no stranger to the world of Disney, having starred in two of the channel's popular series — The Wizards of Waverly Place and Good Luck Charlie. It seemed only fitting then that Mendler join the cast of Disney's The Secret World of Arrietty, the English-dubbed version of the Japanese film by Studio Ghibli. The film, based on Mary Norton's 1952 award-winning book The Borrowers, follows young Arrietty and her parents, a family of tiny people, living secretly under the floorboards of a suburban home. They survive by going unnoticed as they borrow small items from the homeowners until one day Arrietty is spotted by Shawn (David Henrie), a human boy. The two form a special friendship but one that comes with serious risks. We talked to Mendler about what it was like recreating the classic story, which celebrity she'd like to "borrow" a thing or two from, her debut album and how she finds time to do it all.
Were you familiar with story of The Borrowers before you took on this film?
Yeah, of course! I had definitely heard about the story. I hadn't actually read the book but my grandfather has so he was able to talk to me a bit about the story. I just thought it was kind of cool that there's this whole generational thing. He's in his 80s, I was 18, yet we were all familiar with the film.
What drew you into this project?
I think the familiarity of the Studio Ghibli project and knowing the caliber of their work was really cool and appealing. Additionally, I watched the film with the Japanese voices in it, and thought it was such a beautiful movie with a beautiful story and beautiful animation. So I definitely thought it would be a great project to be a part of.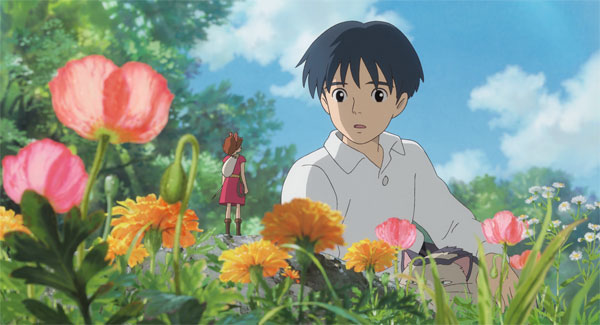 What's your character, Arrietty, like in the film?
Arrietty is a very brave character I'd say. She's growing up and she's learning more about the world and she's not afraid of anything at the beginning. And then as she befriends Shawn and as she explores more in the world around her, she grows up and realizes there's a seriousness. And she takes on the responsibility of befriending this guy who is able to be there for her and she's able to be there for him, even though he's going through some really serious stuff. It's a coming-of-age story so I thought that that was a cool thing to be able to tell.
Would you say you have a lot in common with Arrietty in real life?
Yeah, I'd say we do have a fair deal in common. I think she's spunky and she's curious about the world and she wants to go after things and I feel the same way.
Did you do anything special to prepare for this role?
I watched the film, read through the scripts and thought a bit about the different lines that I was going to be doing, the different scenes that I was in. But the thing about animation I feel is that you kind of just need to dive into it. You have to figure out what the character is going to sound like, for one, because it's your voice. The first scene that I walked into for recording, I was panting as I was running along a sewage drain. So those are the things that are little more difficult to prepare for. You've just got to go for it and not think about the fact that you're standing there panting in front of a room full of people.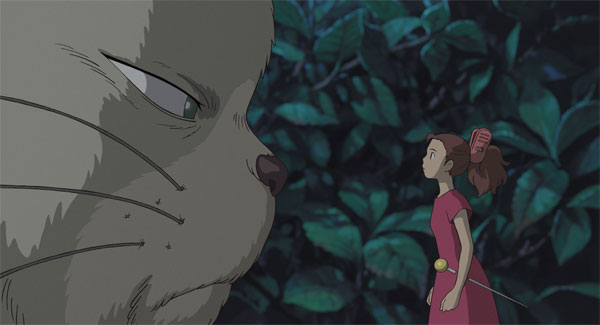 What are some of the other challenges of doing animated work as opposed to just acting on screen?
The special challenge of working on this movie was just that the animation was already there but it was fitted to a different language. We didn't want it to be like one of those old kung fu movies where somebody's talking and then for the next five seconds there's lip movement but nobody's saying anything. So they really worked on trying to fit what was said to the animation that already existed. So I thought that was kind of cool — they were able to do that pretty gracefully. And whenever something didn't fit well they would always change a syllable or tell me to slow down and so that's just an additional thing you had to be aware of during the voice-over work that isn't really something you're conscious of when working on a TV show.
You and David Henrie go way back — you were both on Wizards of Waverly Place together. Did you actually get to work together when doing the voice-overs for this film or were you working separately?
We didn't work with anybody. In voice-over, they do everybody individually, which I guess is a more efficient way of recording. But it's kind of a bummer because in addition to not being able to see somebody that I'd been working with for a long time, there's some other great cast members. I love Amy Poehler and Will Arnett and Carol Burnett. I really admire all of them. But in the post-production side of things when we were promoting the movie, I was able to meet most of those people and it was really cool and I got to reconnect with David too.
What was the recording process like for you — did you do a lot of shorter sessions and then string them all together or was it just a few longer sessions?
It was just a few longer sessions. I worked for three days and that was it, and then we were done. We went through the material in bulk and then just called it a shoot. It was odd; it was like it was done right after it had begun.
What would you say is your favorite part of the movie?
I love the part when I'm going on my first borrowing journey with my dad and there's the bit where I have to soar up on to the higher platform by holding on to this rope and it's doing this 360 view of me swirling up to the top and it's just this really artful shot. I think that first borrowing in general was just really magically to me, it sets the scene really well.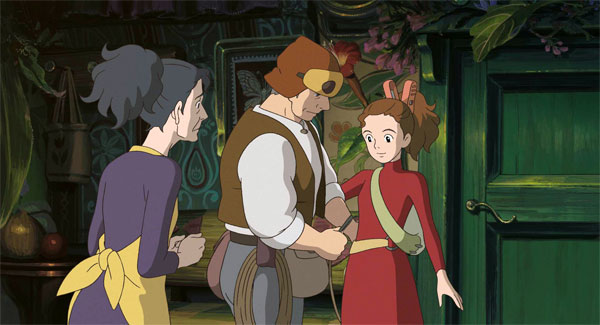 If you could pick one celebrity's house to secretly hide out in and borrow from, who would it be?
I would probably want to borrow from a celebrity chef — Gordon Ramsay or something. I'm sure they would have really great food. I'd be well fed for the rest of my life.
You've also got your debut album coming out pretty soon. Can you tell us a bit about what we can expect from that?
It's pretty different from the music I've done before as a part of the [Disney] channel. I really wanted to explore what my sound would be if I was able to choose. I've been writing music for a while so it was fun to collaborate with people and figure out what would actually work to make a part of my debut album. It's kind of fun, funky, jazzy pop is what I've been saying about it. I'm really bad at summarizing the music. People will just have to hear it and then figure it out from that.
On top of all that, you're still also working on Good Luck Charlie. How do you find time for it all?
I recently got a bit of a vocal issue that they believed was stemming from overworking and straining and that sort of thing. So working a lot does take its toll and we've been able to dial back a bit on the things that aren't essential through that, which I think was just a good lesson in being able to say, "Okay, you're human. You can't just keep pushing all the time. You have to prioritize." And so I think I've always tried to prioritize and make time for friends and family. But at the same time you have to also make time for your body, I've realized. That means making sure you're well-fed, well-hydrated, getting enough sleep, all of those good things so that you can continue to run and be really professional and do your job to the best of your ability.
The Secret World of Arrietty is available today on DVD and Blu-ray. Bonus features in the combo-pack include a storyboard presentation of the film, original Japanese trailers and commercials, the music video for the song "Summertime" performed by Bridgit for the film, a behind-the-scenes look at the making of the "Summertime" music video and the making of the movie's theme song, "Arrietty's Song" by Cécile Corbel. ~Soriyya Bawa
Other new releases this week include: The Grey, Red Tails, This Means War and The Woman in Black.