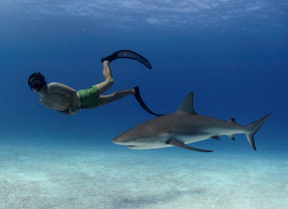 VICTORIA, British Columbia (Sep. 28, 2012) — The Union of British Columbia Municipalities passed a resolution for a provincial ban on the sale, trade and distribution of shark fins, and for the federal government to advance bill C-380 to ban the import of shark fins into Canada.
Director Rob Stewart and his award-winning movie Sharkwater brought awareness of the practice of shark finning to the world, and many countries and territories, including Hawaii, Oregon, California, Saipan and Guam, have all passed legislation to ban the sale of shark fins.
Stewart's new film Revolution premiered at the Toronto International Film Festival this month, where it was the highest-rated Canadian documentary (www.theRevolutionMovie.com). Since then it won Best Film at the Atlantic Film Festival and it will be screened at the Vancouver International Film Festival on October 6 at Empire Granville at 6:15 pm; October 6 at Empire Granville at 12:45 pm and October 10 at Vancity Theatre at 1:30 pm (To buy tickets, click here: www.viff.org/festival/films/f6989-revolution). Stewart will be in attendance at the first two screenings. He has also released a new book, Save the Humans, now available in book stores.
"Shark finning is cruel, wasteful and a threat to our ocean ecosystems," NDP Member of Parliament Fin Donnelly, who introduced the bill to parliament said, "That's why I'm calling on all Canadians to follow the UBCM's lead and contact their members of parliament to encourage them to support my private member's bill to ban the importation of shark fins into Canada."
In Canada alone, there are 13 municipalities that have banned trade in shark fins, including Brantford, London, Mississauga, Newmarket, Oakville, Pickering and Toronto, as well as six municipalities in British Colombia: Abbotsford, Coquitlam, Nanaimo, Port Moody, North Vancouver, and Maple Ridge. Calgary is currently in the process of implementing a similar ban.