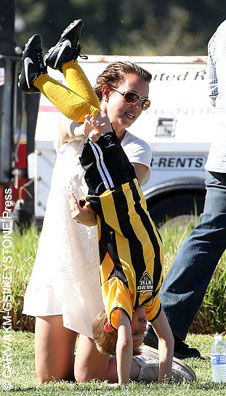 Britney Spears sat on the grass to watch her sons Jayden, 6, and Sean, 7, play soccer last Sunday on a warm sunny day in Los Angeles.
Although in the morning she was wearing track pants and a worn T-shirt, looking as if she'd just tumbled out of bed, she changed to a short white dress in the afternoon — except that there was nothing underneath it.
That became apparent when a breeze lifted the bottom of her dress as she was walking back to the car after the game, baring her bottom to onlookers — and some quick-snapping paparazzi. Although she grabbed at her dress to hold it down, photographers managed to get several shots of her bare buttocks.
Britney is known for appearing in public numerous times without underwear — this is only the latest in a series of wardrobe malfunctions.