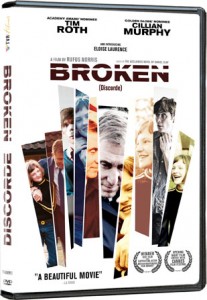 Broken is the story of an 11-year-old girl named Skunk, who is many ways resembles the lead character Scout from To Kill a Mockingbird. Both are spunky. They both have kind lawyer fathers and an older brother, but no mother. Both stories feature a family with a violent father. Both Scout and Skunk have a neighbor with mental problems, who attacks someone with scissors. However, the similarities end there. Skunk lives in North London, where she is friends with Rick, a simple man who seems sweetly childlike.
Also living in the neighborhood is another single father, Bob Oswald. Whereas Skunks' father is gentle, Bob is so fiercely protective of his daughters (foul-mouthed bullies who extort money from other students, including Skunk) that he resorts to violence. When he finds an open condom package, he believes his oldest daughter has been raped and forces her to tell him the name of the man who did it. Frightened, she looks out of the window and spots Rick washing a car, and tells her father it was him. Bob rushes out of the house and in front of Skunk, beats Rick. This sets into motion a string of serious consequences for all three families.
Making her screen debut as Skunk is Eloise Laurence, a natural who shows considerable promise. She's supported by veteran actors Tim Roth as her father and Cillian Murphy as her teacher Mike, who comes to her aid when she's attacked by two of the Oswald girls. No good deed goes unpunished, however, and the Oswald girls make sure he pays for his interference. The story is a fascinating portrayal of three families – two without mothers – and how they deal with their situations and each other.
The screenplay is based on the novel Broken by Daniel Clay, who not surprisingly, admits to having been inspired by the aforementioned To Kill a Mockingbird while writing his book. Broken won Best British Independent Film at the 2012 British Independent Film Awards; Best International Feature Film at the 2012 Zurich Film Festival and received a Caméra d'or nomination at the 2012 Cannes Film Festival. ~Alexandra Heilbron
Other home releases coming out this week include: Girl Most Likely, Grown Ups 2, Lovelace, Parkland, White House Down, Sarah Prefers to Run, Hava Nagila (The Movie), Passion, Partners in Crime, Les seigneurs