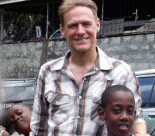 The Canadian Academy of Recording Arts and Sciences (CARAS) and CTV have announced that Bryan Adams, one of the most recognized rock music artists in the world, is the recipient of the 2010 Allan Waters Humanitarian Award. The Award, named after CHUM Ltd. founder Allan Waters, recognizes an outstanding Canadian artist whose humanitarian contributions have positively enhanced the social fabric of Canada. The Allan Waters Humanitarian Award will be presented to Adams during THE JUNO AWARDS broadcast on Sunday, April 18, 2010 on CTV.
Adams has been at the forefront of fundraising and social awareness events from Amnesty International "A Conspiracy of Hope" and Rock for Amnesty Tours, Live Aid, Live 8 and One Night Live. In 1985 Adams co-wrote and took part in the recording of "Tears Are Not Enough," Canada's song to help raise funds for famine relief in Ethiopia.
Over the years he has been a part of the "Reach Out to Asia" campaign to help the underprivileged, and in 2006 he became the first westerner to perform in Karachi, Pakistan, after 9/11 with funds raised going towards victims of the 2005 Pakistan earthquake. He has successfully campaigned for the Southern Ocean Whale Sanctuary with Greenpeace as well as animal rights through PETA. His photography has raised money to benefit cancer research and in 2006, he established The Bryan Adams Foundation, to further advance the education and learning opportunities for children and young people worldwide.
"Without any fanfare Bryan's Foundation has quietly worked to enrich the lives of children and young people here at home and in the far flung corners of the globe," explains Melanie Berry, President & CEO of CARAS. "It is an honor and a privilege to recognize his history of philanthropic work with the Allan Waters Humanitarian Award."
"I am honored to accept this award," noted Adams, "and hope that it will inspire and encourage others to contribute and/or also give back."