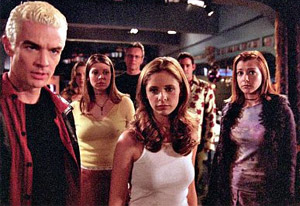 Buffy The Vampire Slayer is heading back to the big screen with a new movie based on the hit franchise. But will it satisfy cult fans?
The character of Buffy, most famously played by Sarah Michelle Gellar in the hit TV series, was a spinoff of the 1992 movie of the same name, starring Kristy Swanson. The TV show, which had a cult following, ran for six years before coming to an end in 2003.
Director Fran Rubel Kuzui, who directed the original film and executive produced the TV program, owns the rights to the Buffy brand and is planning to reboot the franchise for the big screen, replacing Gellar and the rest of the cast with new actors to fight demons in a different generation. But will Joss Whedon be on board?
According to reports, Whedon, who penned the original movie script, is not currently involved in negotiations. Kuzui tells The Hollywood Reporter, "Everything has its moment. Every movie takes on a life at some point, and this seems like the moment to do this. "The new Buffy film, however, would have no connection to the TV series, nor would it use popular supporting characters like Angel, Willow, Xander or Spike. Kuzui and Vertigo are looking to restart the storyline without ruining the story created by Whedon.