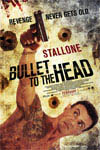 Sylvester Stallone is back in the action packed thriller Bullet to the Head. Stallone plays a hitman looking for revenge and he'll stop at nothing to get what he wants.
Jason Momoa goes head-to-head with Stallone and says it was an honour and a privilege not only to work with the legendary actor but to learn from him as well.
Tribute.ca caught up with Jason to find out more about working on the film and brings you this exclusive preview.