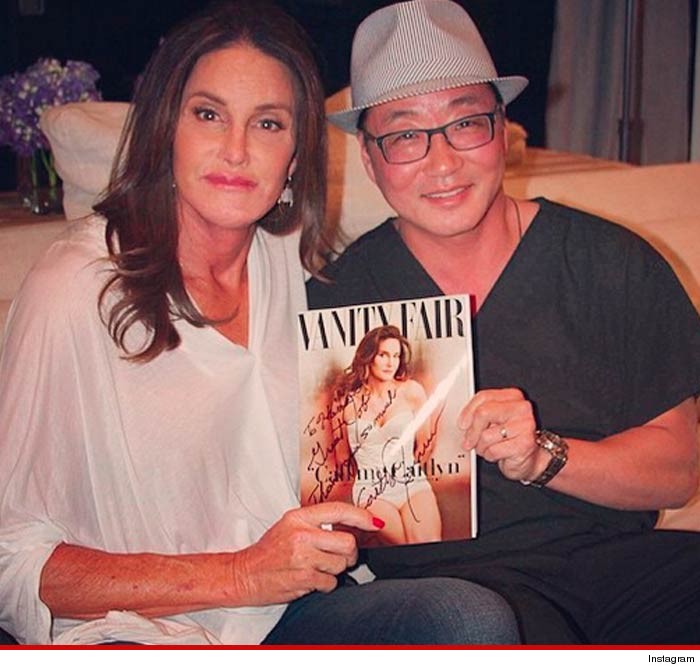 It's been over a week since Caitlyn Jenner (formerly known as Bruce Jenner) debuted her new look on the cover of Vanity Fair. The cover was talked about on many news outlets and the picture went viral on social media, with many congratulating her.
Now the former Olympian-turned-reality star has a lot to be thankful about. Caitlyn recently posed with the cosmetic surgeon who worked on her crucial transformation, Dr. Harrison Lee.
The photo features Caitlyn and Dr. Lee together holding a copy of the Vanity Fair issue that features Caitlyn on the cover.  The copy was autographed by Caitlyn, who wrote: "To Harrison, great job. Thank you so much Caitlyn Jenner."
The photo was posted by one of Dr. Lee's employees, who also praised the doctor's work. "So impressed by my boss Dr Harrison Lee's phenomenal work and being part of Caitlyn's transformation." #caitlynnjenner #drharrisonlee #vanityfair #transgender #realself #loveit captioned the photo.
According to Caitlyn in the Vanity Fair article, she underwent 10 hours of cosmetic surgery to feminize her face. ~Maria-Josee Martinez