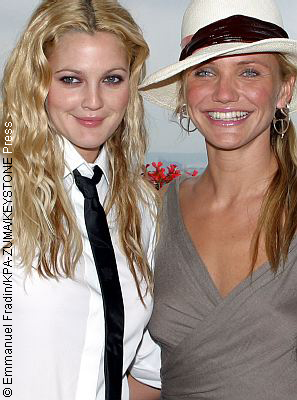 Watch what you say about Drew Barrymore in front of Cameron Diaz! That's what Australian radio host Kyle Sandilands quickly learned after mentioning Drew Barrymore's past drug use while interviewing Cameron Diaz for her new movie Sex Tape. The interview went well until Kyle started talking about Drew Barrymore. The comments started off friendly, with Kyle's co-host Jackie O mentioning a character in Sex Tape reminding her of a young Drew Barrymore from the Steven Spielberg movie E.T. The Extra-Terrestrial. Cameron replied with, "She does, now that you mention it. And she's as bright and lively as Drew is, as well."
Kyle then said, "Let's hope she misses out on the Drew Barrymore drug years, because those were a great thing to watch, but not so good to be in, I'd imagine." Which left Cameron noticeably silent. After Jackie O attempted to move the conversation onto other topics, Cameron grew sarcastic, defending her friend Drew by snapping, "I'm sure, Kyle, you've never been through a drug phase, have you? Or alcoholism or anything like that? Pretty clean… always did it right? Congratulations." Cameron then decided she was done with the conversation and got up to leave, claiming she and her co-star Jason Segal were being told to wrap up.
Jackie O chided her co-host for his comment but he was unapologetic, saying, "Maybe, they should've just bought ads if they wanted to sell the movie." ~Andrea Hodgins

Loading ...