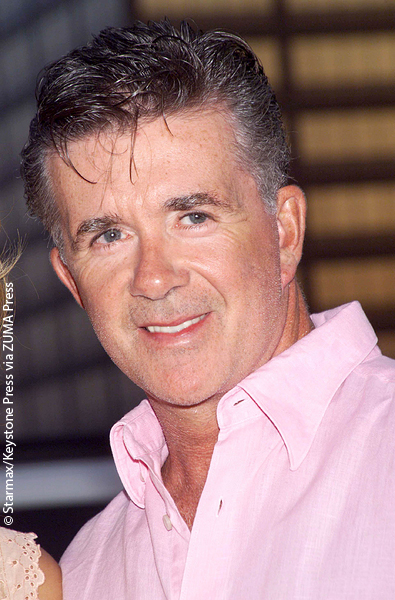 TV personality, talk show host, actor and musician Alan Thicke died today in Burbank, California after suffering a heart attack this morning while playing hockey. He was 69 years old.
Thicke was born in Kirkland, Ontario and quickly made a name for himself on Canadian television, beginning in 1968 as a writer for CBC's The Tommy Hunter Show. He moved on to become a producer of variety shows such as The Bobby Vinton Show (1975-78) and The René Simard Show (1977-78). He then stepped in front of the cameras, hosting his own talk shows: The Alan Thicke Show from 1980-82 and Thicke of the Night (1983-84).
Moving to the States, Thicke found fame as a TV actor on the sitcom Growing Pains, playing Jason Seaver, a psychiatrist raising three children with his loving wife, played by Joanna Kerns. The series was extremely popular, running from 1985-1992.
More recently, Thicke appeared on the Netflix series Fuller House. His most recent Twitter post was about the show just hours before his death, when he wrote: "Season 2 Fuller House looking good. I even like the ones I'm not in!"
Thicke was married to singer/actress Gloria Loring from 1970-1983. They had two sons together: actor Brennan Thicke (b. 1974) and recording artist Robin Thicke (b. 1977).
He then married Gina Marie Tolleson, with whom he had another son, Carter (b. 1997). In 2005 he married his third wife, Tanya Callau, to whom he was married at the time of his death.
According to TMZ.com, Thicke was playing hockey with his son Carter when he began to experience chest pain at about 11 a.m. He became nauseous and was picked up by an ambulance at approximately 11:30, but was pronounced dead at Providence St. Joseph's Medical Center at approximately noon.
Celebrities have been writing tributes to Alan Thicke on Twitter, including his former daughter-in-law Paula Patton, Bob Saget, William Shatner, Ellen DeGeneres, Candace Cameron Bure and many more. ~Alexandra Heilbron