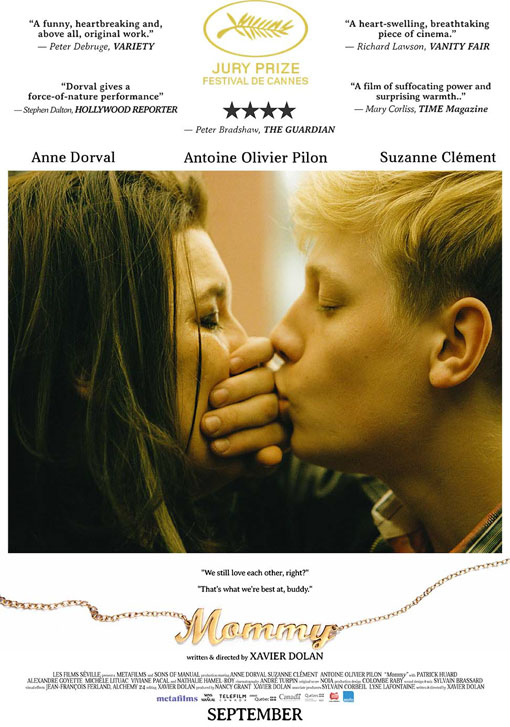 Xavier Dolan's Mommy and David Cronenberg's Maps to the Stars, both of which screened at last year's Toronto International Film Festival, lead the nominees in the film categories at the Canadian Screen Awards.
Mommy received an incredible 13 nominations, while Maps to the Stars garnered almost as many with 11 nods. Both are nominated in the Best Motion Picture, Best Direction and Best Screenplay categories.
Maps to the Stars achieved five nominations in performance categories, including Robert Pattinson and John Cusack for Supporting Actor; Julianne Moore (who just won a Golden Globe for her work in Still Alice) for Leading Actress; Mia Wasikowska (who had more onscreen time than Moore and whose character was the focal point of the film) for Supporting Actress and Evan Bird, who played Mia's brother, for Leading Actor.
Mommy has three performance category nominations: Antoine Olivier Pilon for Leading Actor; Anne Dorval for Leading Actress and Suzanne Clément for Supporting Actress.
Main Canadian Screen Award film nominees:
Best Motion Picture
Cast No Shadow
In Her Place
Maps to the Stars
Mommy
Tu dors Nicole
Performance by an Actor in a Leading Role
Ryan Reynolds – The Captive
Bruce Greenwood – Elephant Song
Michael Murphy – Fall
Evan Bird – Maps To The Stars
Antoine Olivier Pilon – Mommy
Performance by an Actor in a Supporting Role
Justin Chatwin – Bang Bang Baby
John Cusack – Maps To The Stars
Robert Pattinson – Maps To The Stars
Marc-André Grondin – Tu dors Nicole
Kris Demeanor – The Valley Below
Performance by an Actress in a Leading Role
Ahn Ji Hye – In Her Place
Yoon Da Kyung – In Her Place
Julianne Côté – Tu dors Nicole
Julianne Moore – Maps To The Stars
Anne Dorval – Mommy
Performance by an Actress in a Supporting Role
Sandrine Bisson – 1987
Kil Hae Yeon – In Her Place
Mia Wasikowska – Maps To The Stars
Suzanne Clément – Mommy
Catherine St-Laurent – Tu dors Nicole
Achievement in Direction
Atom Egoyan – The Captive
Albert Shin – In Her Place
David Cronenberg – Maps To The Stars
Xavier Dolan – Mommy
Stéphane Lafleur – Tu dors Nicole
Achievement in Cinematography
Norayr Kasper – Fall
Mathieu Laverdière – Henri Henri
Luc Montpellier – It Was You Charlie
Michel La Veaux – Meetings with a Young Poet
André Turpin – Mommy
Achievement in Art Direction / Production Design
The Captive
Cast No Shadow
Fall
Mommy
Pompeii
Achievement in Costume Design
1987
Henri Henri
Mommy
Pompeii
Trailer Park Boys – Don't Legalize It
Achievement in Editing
Greg Ng – Afflicted
Arthur Tarnowski – Henri Henri
Albert Shin – In Her Place
Ron Sanders – Maps To The Stars
Xavier Dolan – Mommy
Achievement in Makeup
1987
Henri Henri
Meetings with a Young Poet
Mommy
Trailer Park Boys – Don't Legalize It
Achievement in Music – Original Score
Cast No Shadow
Hector and the Search for Happiness
Henri Henri
Maps To The Stars
Meetings with a Young Poet
Achievement in Overall Sound
Bang Bang Baby
Maps To The Stars
Meetings with a Young Poet
Mommy
Pompeii
Achievement in Sound Editing
Fall
Henri Henri
Meetings with a Young Poet
Mommy
Pompeii
Original Screenplay
The Captive
In Her Place
Maps To The Stars
Mommy
Tu dors Nicole
Adapted Screenplay
The Calling
Cast No Shadow
Elephant Song