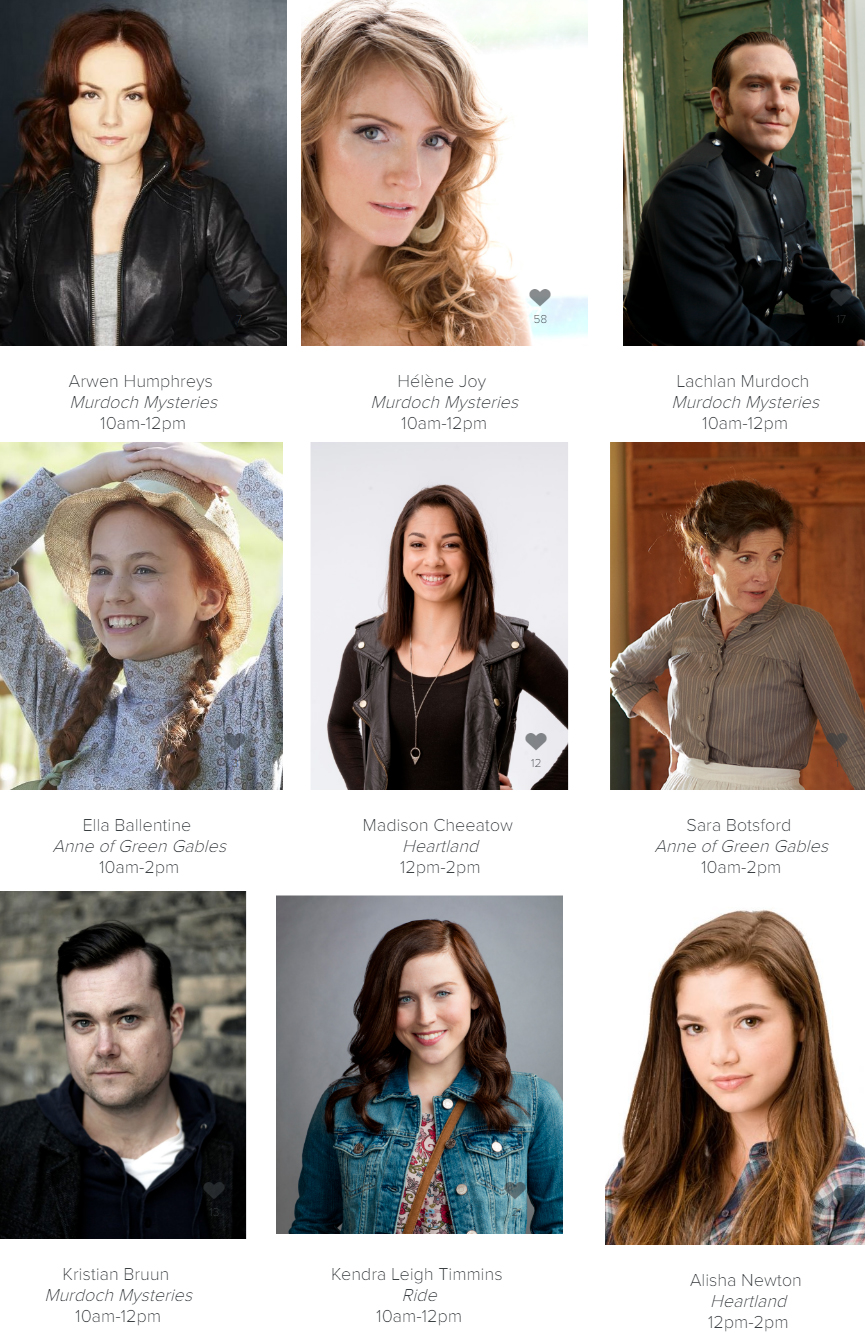 The Canadian Screen Awards are holding a Family Fan Day on Saturday March 11, 2017 at the Sony Centre for the Performing Arts at 1 Front Street East in Toronto from 10 a.m. – 2 p.m. Admission is free for everyone.
Fans will have the chance to meet their favorite stars, have a photo taken with celebrities, see some of the amazing animals from Hands on Exotics and enter for a chance to win access to be part of the red carpet experience before the live broadcast of the Canadian Screen Awards. The first 100 people are guaranteed entrance to the Meet-the-Stars area and a door prize. Bring the family and enjoy meeting celebrities, games, interactive attractions, free giveaways and much more. ~Alexandra Heilbron
Stars include: 
Murdoch Mysteries stars Hélène Joy, Arwen Humphreys, Lachlan Murdoch and Kristian Bruun (also of Orphan Black) from 10 a.m. to 12 p.m.
Heartland stars Alisha Newton and Madison Cheeatow from 12 p.m. to 2 p.m.
Ride star Kendra Leigh Timmins from 10 a.m. to 12 p.m.
Anne of Green Gables stars Ella Ballentine and Sara Botsford from  10 a.m. to 12 p.m.
The Next Step stars Victoria Baldesarra and Shelby Bain from 10 a.m. to 12 p.m.
Backstage stars Julia Tomasone, Colin Petierre and Devyn Nekoda from 12 p.m. to 2 p.m.
Degrassi: The Next Class stars Chelsea Clark and Ehren Kassam from 10 a.m. to 12 p.m.
Meanwhile, last night, The Academy of Canadian Cinema & Television presented the Digital & Immersive Storytelling Canadian Screen Awards at The Great Hall in Toronto during a ceremony hosted by Chris Robinson.
The Canadian Screen Awards Broadcast Gala, hosted by comedian Howie Mandel, will be broadcast live on CBC this Sunday, March 12 beginning at 8 p.m. (9 AT/9:30 NT).
Full Digital & Immersive Storytelling winners list
Best Cross-Platform Project – Children's and Youth: Science Max Interactive
Best Cross-Platform Project – Fiction: Wynonna Earp Interactive
Best Cross-Platform Project – Non-Fiction: Canada's Smartest Person
Best Immersive Experience: Nomads
Best Original Interactive Production Produced for Digital Media: I Love Potatoes 
Best Original Program or Series produced for Digital Media – Fiction: The Amazing Gayl Pile
Best Original Program or Series produced for Digital Media – Non-Fiction: VICE Canada Reports
Best Direction in a Program or Series Produced for Digital Media: The Amazing Gayl Pile
Best Performance by an Actor in a Program or Series Produced for Digital Media: My 90-Year-Old Roommate – Paul Soles
Best Performance by an Actress in a Program or Series Produced for Digital Media: Tactical Girls – Melissa D'Agostino
Social Innovator Award: Yolanda Gampp