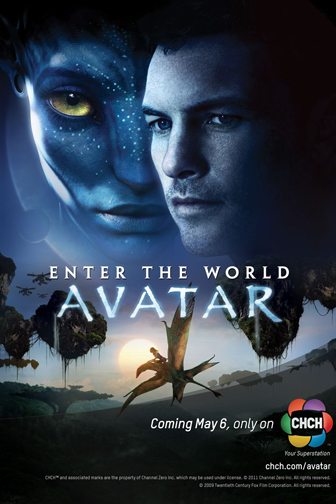 Avatar will make its Canadian broadcast television debut on CHCH TV and Montreal's Métro14 on Sunday, May 6, 2012 at 8pm ET. "It's the biggest television event to hit TV screens in many years, and we're proud to have the exclusive broadcast rights," said Romen Podzyhun, CEO of Channel Zero Inc. "It's fitting that the Canadian broadcast premiere of Avatar, created by Niagara Region's own James Cameron, takes place on his hometown TV station CHCH." Starring Sam Worthington (Jake Sully), Sigourney Weaver (Grace), Zoe Saldana (Neytiri), Stephen Lang (Colonel Miles Quaritch), Michelle Rodriguez (Trudy Chacon), and Giovanni Ribisi (Parker Selfridge), Avatar was the highest grossing film ever released with estimated box office sales of $2.8 billion to date.
Viewers planning on tuning into Avatar are encouraged to engage with others through Twitter at #CHCHAvatar. You can win an Avatar prize pack, including a T-shirt, keychain, extended collector's edition 3-disc DVD set and the hardcover book The Art of Avatar by commenting here or on Tribute's Facebook page telling us what you like best about Avatar (which scene, which character, etc.), or if you haven't seen it, whether you plan to watch it on TV and what you're most looking forward to about it.
Update: We have a winner! Congratulations to Neil Wyborn and thanks to everyone who entered!