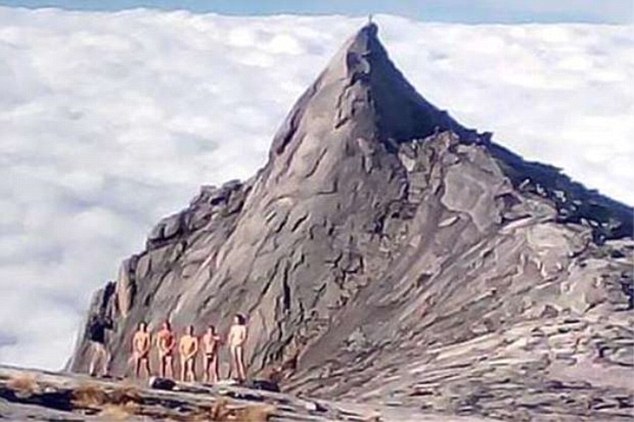 Two Canadian siblings as well as several other tourists are in hot water in Malaysia after stripping naked on top of Mount Kinabalu in Kinabalu Park on May 30th. Malaysian officials believe the group's exposure caused a 6.0 magnitude earthquake on Friday that left 13 people dead more then a week after the alleged incident. Six more are presumed missing at this point.
The two Canadians are 23-year-old Lindsey Peterson and his sister, 22-year-old Danielle Peterson from Saskatchewan. The Malaysian government is preventing the two as well as several other tourists from leaving the country and they could be charged as soon as tomorrow. The other tourists are German national Stephen Pohlner, Dutch citizen Dylan Snel and Briton Eleanor Hawkins.
Locals of the area believe that the nude photo at the top of the mountain angered the mountain spirits, who retaliated with the earthquake. The tourists are also being accused of urinating on the mountain. Malaysians are expecting to host a spiritual ceremony to appease the spirits. Photos of the naked climbers, such as the one shown here, showed up on social media several days before the earthquake.
Poor weather conditions Friday prevented immediate rescue of the survivors, leaving people to fend for themselves in the cold. Approximately 75 tour guides have been credited with leading stranded climbers down the mountain to safety when helicopters failed to show up on the scene. Many of the trails had been blocked or destroyed by earthquake debris.
The earthquake caused damage to surrounding areas including the local hospital, which hindered the ability to treat the wounded from the earthquake.
Officials are calling this a "disrespectful act" towards the mountain, that led to the earthquake. They have closed the mountain to all climbing activity for now and expect it to remain closed for the next several weeks.
What do you think? Was the earthquake spirits reacting to the "disrespectful act" or was this just plate tectonics at work? ~Greg Chisholm
UPDATE: June 12, 2015.
Four of the travelers in question, including the two Canadians, were arrested Tuesday, held for three days in jail and found guilty of indecent exposure. The group was sentenced to time served and ordered to pay a $1900 fine.