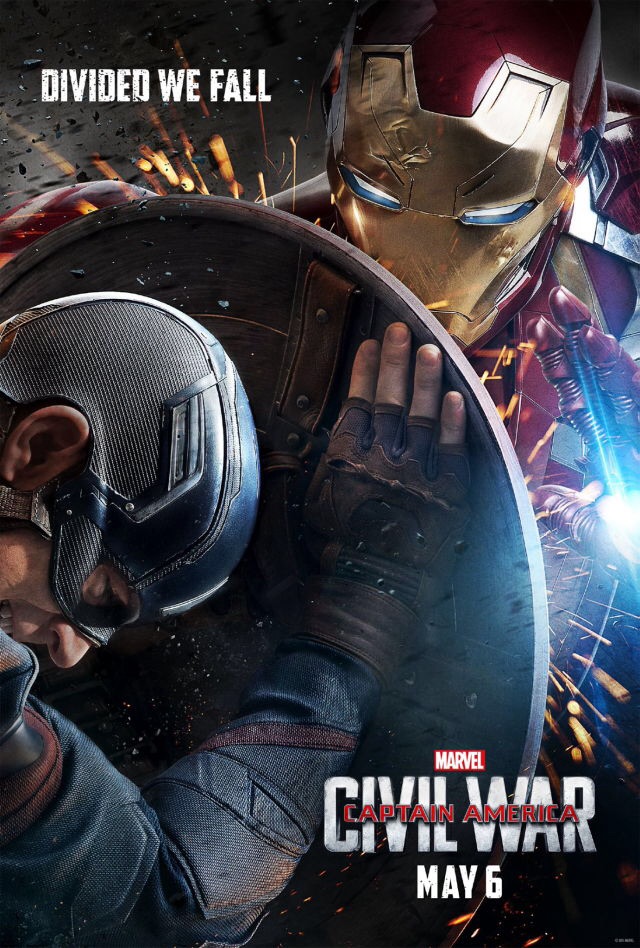 Anything even remotely related to the Marvel Universe is guaranteed to drive moviegoers wild, and the reaction to the newly released final trailer for Captain America: Civil War, featuring a surprise appearance from a very unexpected superhero, certainly proves this.
Much like Marvel-lovers, another fan base is literally chomping at the bit. Because we aim to please, we've got exactly what they're looking for — the official trailer for the hotly anticipated sixth season of HBO's Game of Thrones. With so many favorite characters returning, the teaser trailer is definitely stirring up major anticipation for the show's return on April 24.
Undeniably the most controversial release of the week, the premiere trailer for the biopic Nina hit the web to a maelstrom of backlash, specifically over star Zoe Saldana's casting as the late jazz singer Nina Simone. Controversy or not, we suggest you take a look below and decide for yourself.~Shelby Morton
Here's a list of the new trailers:
1.) Captain America: Civil War
2.) Game of Thrones
3.) Ghostbusters
4.) Nina
5.) A Hologram for the King
6.) The Trust
7.) Tyler Perry's BOO! A Madea Halloween
8.) The Meddler
9.) Hardcore Henry
10.) The Dark Horse
Captain America: Civil War- Tensions rise between Steve Rogers (Chris Evans) and the other Avengers when global governments initiate an act to regulate all superhuman activity. Stark, a.k.a. Iron Man, believes the superheroes should register, while Rogers has a mistrust of the government. This put a strain on the friendship and eventually, The Avengers. Meanwhile, Steve meets up with an old friend, Bucky Barnes (Sebastian Stan), who's in trouble. He's accused of a crime he says he didn't commit, and his life is now in danger. Steve stands behind him, but the other Avengers believe his actions are putting them in danger.
Game of Thrones- Favorite characters such as Daenerys (Emilia Clarke), Cersei (Lena Headey), Jaime (Nikolaj Coster-Waldau), Tyrion (Peter Dinklage), Sansa (Sophie Turner), Arya (Maisie Williams), Littlefinger (Aidan Gillen), Theon (Alfie Allen), Margaery (Natalie Dormer), Bran (Isaac Hempstead Wright), Hodor (Kristian Nairn) and Sam (John Bradley) return for Season 6 of the epic fantasy series, based on the bestselling novels by George R. R. Martin.
Ghostbusters-  In the all female remake of the '80s classic of the same name, Ghostbusters follows authors Erin Gilbert (Kristen Wiig) and Abby Yates (Melissa McCarthy) as they write a book in which they claim that ghosts exist. A few years later, Erin lands a prestigious teaching position at Columbia University, but when her book resurfaces, she becomes a joke within the academic world. That changes when ghosts invade Manhattan, and Erin and Abby reunite to get together a team to save the world.
Nina- This biopic follows the inspirational story of revolutionary singer and songwriter Nina Simone (Zoe Saldana) as she struggles to resurrect her career after years of alcoholism, reclusion and undiagnosed mental illness, with the help of a kind and patient man named Clifton Henderson (David Oyelowo).
A Hologram for the King- American businessman Alan Clay (Tom Hanks) is a divorced father facing bankruptcy. He persuades the company he works for to let him pitch a 3D holographic meeting system to the King of Saudi Arabia. Alan travels to Saudi Arabia, where he realizes he needs to learn how to do business in a new way and worries that he will never secure the deal.
The Trust- In the action thriller The Trust, two police officers (Nicolas Cage, Elijah Wood) team up to find and break into a drug dealer's cash-filled vault.
Tyler Perry's BOO! A Madea Halloween- Madea (Tyler Perry) finds herself spending Halloween fending off killers, poltergeists, ghosts, ghouls and zombies while keeping a watchful eye on a group of misbehaving teens in this latest installment of the Tyler Perry series: Tyler Perry's BOO! A Madea Halloween.
The Meddler- The Meddler follows recently widowed Marnie Minervini (Susan Sarandon) who won't leave her daughter Lori (Rose Byrne) alone. Marnie texts, calls and visits her daughter unannounced. Lori tries to regain control over her life by setting boundaries and unknowingly lets Marnie's mothering nature loose on Los Angeles. Meanwhile, Marnie has a chance encounter with a new man (J.K. Simmons), which may signal the start of a change in her life.
Hardcore Henry- In the Russian-American sci-fi thriller Hardcore Henry, a man wakes up with no memory of his past. He's told his name is Henry and that he's a cybernetic super-soldier resurrected from the dead. Here's where the electrifying action kicks off and doesn't subside until the credits roll. Henry is informed that his wife Estelle (Haley Bennett) has been kidnapped and he's assigned to save her. Her captor is Akan, a powerful warlord with his sights set on world domination. Everyone is gunning for Henry (literally), except his only ally, a mysterious British man named Jimmy (Sharlto Copley). Or is he an ally?
The Dark Horse- Based on the true story of New Zealand's Genesis "Gen" Potini (Cliff Curtis), The Dark Horse is a story of redemption and hope. When Gen is released from an institution where he was being treated for bipolar disorder, the former chess prodigy is put in the hands of his older brother Ariki, who happens to be the leader of a street gang. As Ariki plans for the initiation of Gen's teenage nephew Mana (James Rolleston) into the gang, Gen decides to volunteer his time and serve as coach to the youth of the Eastern Knights Chess Club. As he inspires the members of the club, Mana takes notice and recognizes his own affinity for the game, as well as his desire to rise above a life of gang violence.