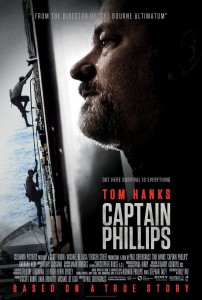 This weekend offers thrills and romance as films featuring star-crossed lovers and hijacking pirates are released. The most anticipated of these releases is Paul Greengrass' hostage-thriller Captain Phillips. Tom Hanks stars as Richard Phillips, the commanding officer of the U.S. container ship Maersk Alabama, which is hijacked by a crew of Somali pirates. Based on the real-life hijacking that took place in 2009, it focuses on the relationship between Captain Richard Phillips and Muse, the Somali pirate captain. The film has already received rave reviews for Paul Greengrass' direction and Tom Hanks' leading performance as the titular character.
Also opening this weekend is Robert Rodriguez's Machete Kills. A sequel to his 2010 action film Machete, it follows the titular character, played by Danny Trejo, as he is hired by the U.S government to eliminate a Mexican arms dealer. The over-the-top actioner is supported by an ensemble cast, including Michelle Rodriguez, Amber Heard, Demian Bichir, Sofia Vergara, Lady Gaga, Antonio Banderas, Cuba Gooding Jr., Mel Gibson and Charlie Sheen, as the President of the United States.
This weekend also features a Shakespearean adaptation as Romeo and Juliet makes its way to the big screen once again. Starring Douglas Booth and Hailee Steinfeld as the star-crossed lovers, the romantic tragedy adopts the traditional setting of Verona from the play, but Shakespeare's dialogue is tweaked by the screenwriter, Downton Abbey's Julian Fellowes, making it easier to understand for modern audiences. A solid supporting cast of Paul Giamatti, Ed Westwick and Kodi Smit-McPhee supplement the two leads.
Rounding off the weekend's releases is The Right Kind of Wrong. Starring Ryan Kwanten and Sara Canning, the romantic comedy follows divorced dishwasher Leo Palomino as he falls in love and subsequently attempts to woo a woman who is about to marry someone else. Helmed by National Lampoon's Christmas Vacation director Jeremiah Chechlik,  the romantic comedy features a comedic supporting cast of Catherine O'Hara and Will Sasso. ~Raj-Kabir Birk