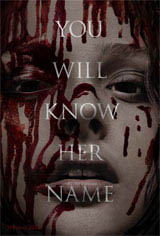 Carrie stars Chloë Grace Moretz in the title role as a bullied young girl. The story follows the shy, awkward teen as she struggles through the social requirements of high school — difficult for most teens. It's even harder for Carrie, who lives with her single mother (Julianne Moore), a mentally ill woman who believes any show of skin or contact with the opposite sex is evil. She forces Carrie to live a repressed, anti-social life and physically abuses her. At school, Carrie is bullied by her peers, and because her mother has taught her nothing about growing up, she's understandably terrified when she gets her period. The other girls laugh at her and one, a particularly cruel girl named Chris (Portia Doubleday), videotapes a hysterical Carrie wrapped in only a towel in the gym shower and posts it to YouTube.
Slowly, Carrie begins to realize she has the power of telekinesis and can move objects just by thinking about them. It gives her a sense of power and a little more confidence in herself, but it's when her classmate Sue, played by Gabriella Wilde, feels remorse for the way her group of friends have treated Carrie and consequently asks her boyfriend to invite the girl to the prom, that Carrie begins to feel the first awakenings of what it might feel like to be a normal girl.
Although this is a remake of the 1976 hit film of the same name (starring Sissy Spacek), the anti-bullying message is even more relevant today. At 16, closer in age than Spacek was when she played the role, Moretz is good but not great at playing the meek and abused Carrie, perhaps because it's so far from her own personality, as Kimberley Peirce notes in one of the DVD featurettes. With outstanding performances playing girls with enormous emotional strength and presence in movies such as Kick-Ass and Let Me In, Moretz seems somewhat miscast as a girl who's afraid of her own shadow. Julianne Moore is appropriately frightening as Carrie's mother, but it's another actress who stands out — newcomer Gabriella Wilde. She has a starring role in the upcoming Endless Love, and it will be interesting to see if the movie propels her to the stardom she deserves.
Overall, the movie is a credible remake of the original for today's audiences. Special extras on the Blu-ray include an alternate ending not shown in theaters that gives homage to the original's unforgettable end scene; deleted/alternate scenes and featurettes such as "Creating Carrie," "The Power of Telekinesis;" and "Telekinetic Coffee Shop Surprise." Other films releasing today for home entertainment include: Lee Daniels' The Butler, You're Next, Riddick, Fruitvale Station, Enough Said, and 20 Feet from Stardom.