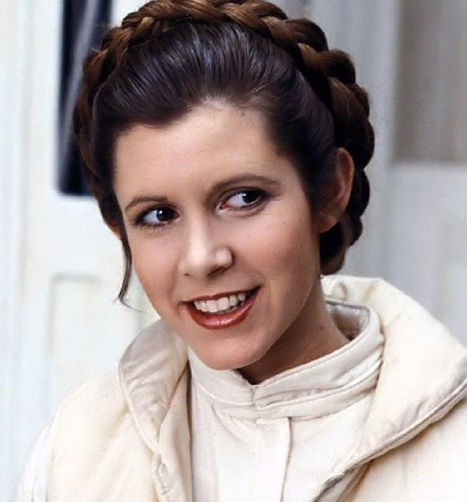 Iconic Star Wars actress Carrie Fisher has passed away at the age of 60.
Simon Hall, a spokesperson for her family, released a statement to PEOPLE magazine today (Dec. 27) on behalf of Carrie's 24-year-old daughter Billie Lourd. The statement reads, "It is with a very deep sadness that Billie Lourd confirms that her beloved mother Carrie Fisher passed away at 8:55 this morning.
"She was loved by the world and she will be missed profoundly. Our entire family thanks you for your thoughts and prayers."
Carrie's passing comes after she suffered a severe heart attack on Dec. 23 aboard a plane traveling from London to Los Angeles. Upon landing in California, she was rushed to UCLA Medical Center and placed in Intensive Care. She died early this morning in the hospital.
Best known as Princess Leia Organa in the Star Wars films, Carrie was born to veteran actress Debbie Reynolds and entertainer Eddie Fisher.
She followed in her mother's footsteps when she decided to pursue a career in acting and was catapulted to fame in the first Star Wars hit, 1977's Episode IV – A New Hope. She was 19 when the film was shot.
Aside from the franchise's second and third films — 1980's Episode V – The Empire Strikes Back and 1983's Episode VI – Return of the Jedi — she also reprised her Princess Leia role in 2015's The Force Awakens.
But Carrie showed range in a variety of other parts, too. She is remembered for performances in The Blues Brothers, Hannah and Her Sisters and When Harry Met Sally.
Acting wasn't her only endeavor. She flexed her writing muscles throughout her career as well, penning several novels, including 1987's Postcards from the Edge, which was semi-autobiographical and explored her substance abuse problems. It was adapted into a hit film starring Meryl Streep and Shirley MacLaine.
As far as writing screenplays, Carrie reportedly helped pen hit films including The Wedding Singer, Hook and Sister Act.
Her romantic life was highly publicized. In 1983, Carrie wed musician Paul Simon. It was a contentious and short-lived union, however, as the pair divorced in 1984.
She later dated talent agent Bryan Lourd for three years and had her only child while with him. Billie Lourd was born in 1992.
Carrie's latest credit is her memoir The Princess Diarist, released last month, in which she opened up about a steamy affair with her Star Wars costar Harrison Ford.
She is survived by her mother Debbie and her daughter Billie.
In the wake of Carrie's death, several stars took to Twitter to pay tribute to her life and legacy. Elizabeth Banks, Patton Oswalt and Anna Kendrick are among them.
Below, check out a slew of tweets in honor of Carrie.
What is your favorite Carrie Fisher film? How will you remember her? Let us know. ~Matthew Pariselli 
no words #Devastated pic.twitter.com/R9Xo7IBKmh

— Mark Hamill (@HamillHimself) December 27, 2016
#CarrieFisher was so witty and provocative and unrelentingly interesting. Goddamn, I loved her. Everyone did. — Elizabeth Banks (@ElizabethBanks) December 27, 2016
I'm deeply saddened to learn of the death of Carrie Fisher. I will miss our banterings. A wonderful talent & light has been extinguished.

— William Shatner (@WilliamShatner) December 27, 2016
Carrie Fisher you were a force throughout your life. And went away too soon dammit. RIP. And 2016 you suck. — Connie Britton (@conniebritton) December 27, 2016
Not Carrie Fisher. Just. Not. Carrie Fisher.

— Diane Warren (@Diane_Warren) December 27, 2016