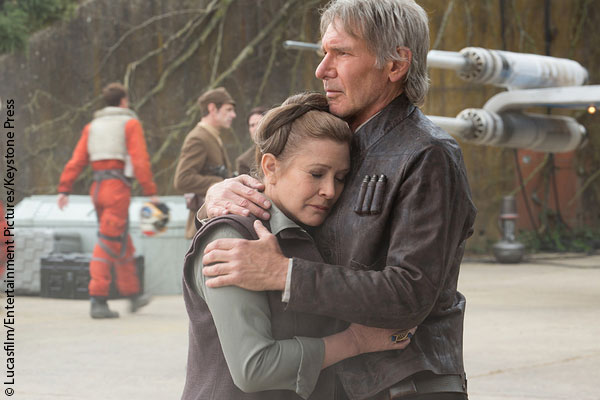 The onscreen chemistry between Carrie Fisher's Princess Leia and Harrison Ford's Han Solo isn't necessarily a testament to the acting ability of the stars. At least not according to Carrie.
Now 60, Carrie has opened up to PEOPLE about what she calls an "intense" affair with Harrison, now 74, on the set of the six-time Oscar-winning hit Star Wars: Episode IV – A New Hope (1977).
She said, "It was so intense. It was Han and Leia during the week, and Carrie and Harrison during the weekend."
Carrie revealed that she spent her first night with Harrison after a birthday party for the film's director, George Lucas. She was in her late teens, he was in his early thirties.
In her latest memoir, The Princess Diarist, she shares how insecure she felt about being with an actor like Harrison.
She writes, "I looked over at Harrison. A hero's face — a few strands of hair fell over his noble, slightly furrowed brow. How could you ask such a shining specimen of a man to be satisfied with the likes of me?"
The Emmy nominee, who has since appeared in other Star Wars films and When Harry Met Sally…, also writes about Harrison's lack of skills in the bedroom, but that she was willing to overlook the shortcoming because "he was really handsome."
Additionally, she writes that while they filmed in Tunisia, he got her drunk and seduced her; she "relentlessly" made attempts to sleep with him; and she hoped he would propose to her with a "gold band with diamonds [inscribed] 'Carrison.'"
As is well known now, he never did. Their affair ended once filming wrapped, and Harrison returned to his wife Mary Marquardt, with whom he had two children. The pair eventually filed for divorce in 1979.
The affair transpired 40 years ago, but Carrie looks back at it with fond sentiments. She said, "I was so inexperienced, but I trusted something about him. He was kind."
For the full story, pick up The Princess Diarist, which lands in bookstores Nov. 22, 2016.
Does Carrie's revelation take you by surprise? What are your thoughts on the affair she claims to have had with Harrison? Share your opinions with us! ~Matthew Pariselli