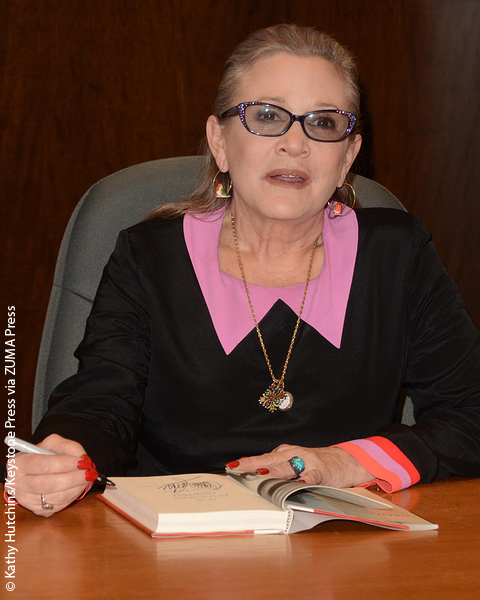 Carrie Fisher, 60, was travelling to Los Angeles from London on an 11-hour United Airlines flight when she suffered a major heart attack just 15 minutes before landing.
An EMT and several nurses who were on board administered CPR after a flight attendant asked if any passengers had medical training.
The airline crew described Carrie as "unresponsive" upon landing and according to TMZ, she appeared unconscious while being rushed through the airport to a waiting ambulance just after noon today.
She was taken to UCLA Medical Center, where she was put on a ventilator. Several hours later, she was moved from emergency to Intensive Care.
The news first broke on Twitter, where fellow passengers revealed what had happened, including YouTube filmmaker Anna Akana, who wrote: "Don't know how else to process this but Carrie Fisher stopped breathing on the flight home. Hope she's gonna be OK."
Although AP reported that Carrie, the daughter of legendary actress Debbie Reynolds, was in stable condition just before 4 p.m., Carrie's brother, Todd Fisher, told Variety in a phone interview: "She's in the ICU and everybody's praying for her. There's nothing new from the doctors. There's nothing new at all… There's no good news or bad news." He said media outlets were "writing between the lines" when they reported she was in stable condition.
Todd told Entertainment Tonight at approximately 8:45 p.m. that Carrie was in the intensive care unit where she was "being well looked after." He added, "If everyone could just pray for her that would be good. The doctors are doing their thing and we don't want to bug them. We are waiting patiently."
He also said her condition is still unknown. "We don't know. We hope for the best. We certainly do not know her condition, that's why she is in ICU. I'm sure everyone wants to speculate, but now is not the time for that."
Carrie's Star Wars co-star, Mark Hamill, tweeted: "as if 2016 couldn't get any worse… sending all our love to @carrieffisher."
Carrie, who recently reprised her role as Princess Leia in last year's Star Wars: The Force Awakens alongside Hamill, had been in London filming the Amazon series Catastrophe. ~Alexandra Heilbron
as if 2016 couldn't get any worse… sending all our love to @carrieffisher

— Mark Hamill (@HamillHimself) December 23, 2016