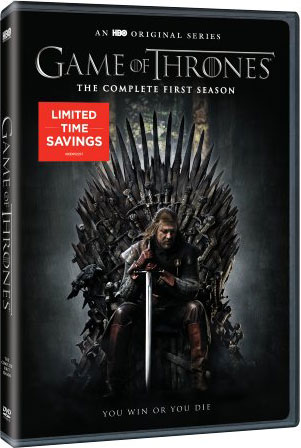 Newcomers to the extremely popular Game of Thrones series can take advantage of a new offer in order to get in the game and be part of the talk around the water cooler at work with your colleagues who are fans of the show. Game of Thrones: The Complete First Season on DVD and Blu-ray + Digital HD is now available at a new low price – DVD ($20.00) and Blu-ray + Digital HD ($25.00) – only from April 7 through May 4.
Game of Thrones fans can hardly wait for the start of the fifth season, but Canadian TV viewers who missed out on Season one of the show and wonder why this show is so popular have a chance to get caught up.
These new DVD and Blu-ray sets are packed with bonus content and special features to help new fans understand the show, based on George R.R. Martin's bestselling book series A Song of Ice and Fire. After its debut, the Game of Thrones became one of HBO's biggest hits. The Emmy award-winning show follows kings and queens, knights and renegades, liars and noblemen in a violent battle for power of the Seven Kingdoms of Westeros. The bloody struggle for the Iron Throne will have unforeseen and far-reaching consequences as Season Five debuts on April 12 on HBO Canada.
The Season One DVD set has 5 discs that include the special features: Complete Guide to Westeros – an interactive compendium of the noble houses and lands featured in season one; Making Game of Thrones – an exclusive 30-minute feature including never-before-seen footage from the set and interviews from the cast and crew; Character Profiles – profiles of 15 major characters as described by the actors portraying them; Creating the Show Open – an inside look at the creation of the Emmy-winning opening title sequence for Game of Thrones; From the Book to the Screen – executive producers David Benioff and D.B. Weiss along with author George R.R. Martin talk about the challenges of bringing Martin's epic fantasy novel to life on HBO; The Night's Watch – an in-depth look at the unique order of men who patrol and protect the Wall, a 700-foot ice structure that separates the Seven Kingdoms from the darkness beyond; Creating the Dothraki Language – a glance into the language created for the Dothraki people in Game of Thrones and Audio Commentaries – Seven audio commentaries with screenwriters David Benioff and D.B. Weiss; author George R.R. Martin and cast members Lena Headey, Emilia Clarke, Peter Dinklage, Sean Bean, Jason Momoa, Kit Harington, Maisie Williams, Isaac Hempstead Wright, Nikolaj Coster-Waldau, Charles Dance, Richard Madden, Iain Glen, Mark Addy, Sophie Turner, Bryan Cogman, Harry Lloyd, Daniel Minahan and Alan Taylor.
The Season One Blu-ray set has 5 discs with special features that include all of the special features on the DVD set plus: Complete Guide to Westeros – an interactive compendium of the noble houses and lands featured in season one, plus 24 exclusive histories of the Seven Kingdoms as told by the characters themselves done with animated illustrations that provide more information on the background of Game of Thrones. There's also an In-Episode Guide that provides background information about onscreen characters, locations, and relevant histories while each episode plays; Anatomy of an Episode – an in-episode experience that explores the creative minds and colossal efforts behind episode six, "A Golden Crown," and Hidden Dragon Eggs – find the hidden dragon eggs to uncover even more never-before-seen content.