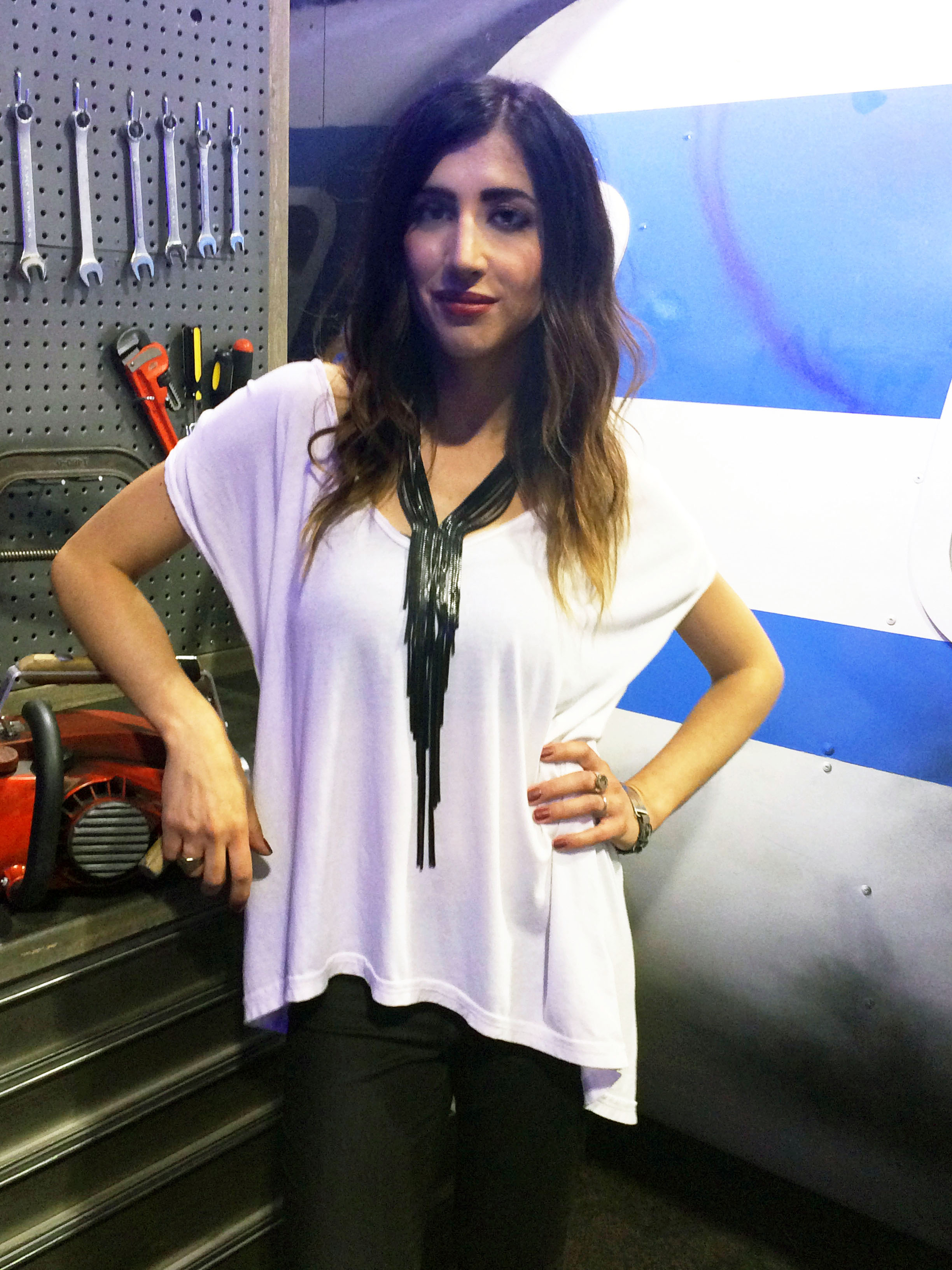 We've got less than a month before Ash vs Evil Dead Season 2 premieres, and Tribute had the chance to chat with star Dana DeLorenzo at Fan Expo this past weekend. Dana joined the cast of the TV show version of the cult classic movie franchise for its premiere last Halloween.
She has also been in A Very Harold & Kumar 3D Christmas, and will continue playing Ash's badass sidekick Kelly, who will be seeking revenge in the second season of Ash vs Evil Dead premiering on October 2, 2016.
In our interview with the hilarious actress, we talked about how she landed the role, what got her into acting, how she deals with the gore, and what we can look forward to both in season two and in her career! ~Natalia Makarski
Had you've ever been to Fan Expo before?
No, this is my first time and I'm loving it. I was in Toronto when I was in sixth grade, and it was my first away trip, so Toronto will always hold a very special place in my heart. I have my Tim Hortons double-double today and I'm ready to go. I had the pumpkin spice donut and it was amazing, and everyone told me to get the double-double, and now I'm like doubly caffeinated for sure.
Have you seen any Ash vs Evil Dead cosplays around today?
I haven't really seen cosplays yet, you know I haven't really been up on the floor that much, but I've seen a lot of Ash vs Evil Dead paraphernalia, and shirts and amazing vintage Evil Dead t-shirts. I love seeing the fans and the different things that they have from the franchise and hearing their stories of what movie they saw first, which is their favorite, and it's just so great talking to the fans. I really, really love it. That's why I'm hoarse, because I think I talk more than they do. Like I think I overwhelm them. I think I'm more excited to meet them than they are to meet me. I'm very grateful, because without the fans, I wouldn't be sitting here.
Were you a fan of the franchise before you tried out for the role?
Yeah, absolutely! The first movie I saw was Army of Darkness in high school, and I was a huge horror buff growing up. Were you a Goosebumps book reader?
Yes! I grew up getting the books from the school library every day.
They're amazing right? I was a fan of Bruce Campbell as I had also seen Bubba Ho-Tep, so when this audition came I was like, "Well there's no way in hell I'm gonna get this job." Like legitimately, "Well, I'm not gonna worry about it cause I'm not gonna get it." So I think because I wasn't so nervous, because there was no way I thought I was gonna get it, that's probably why I got the job.
That's a good strategy actually, just have no confidence!
[laughs] Just have no confidence and be like, "Well, this will be a fun rejection." But I'm just so lucky to be part of such a beloved franchise and I think that's why the show works, because when you have the original creators and the original star, plus everyone involved cares so much about this because of the fans. Because they have been so loyal for so long. That's why I think it works.
What drew you to becoming an actress in the first place?
You know, I was very little and I was two-and-a-half years old telling jokes to myself and cracking myself up on my Fisher Price tape recorder. So I think I've just always loved the idea of being an entertainer and performing since before I knew what it was. And that love never went away as I got older and I would do it on the side because I know it's such a tough thing to get into, but I couldn't stay away from doing it. So I've just always loved the idea of sharing the human experience with people. In this case my job happens to be the human experience of what it would be like if Deadites walked the Earth. But to be on a show like this I get to do all kind of genres from horror to comedy to drama to action. I mean, I'm getting to do stunts, which is awesome. I'm just having the time of my life because as an actor, what a dream to be able to do all these different genres.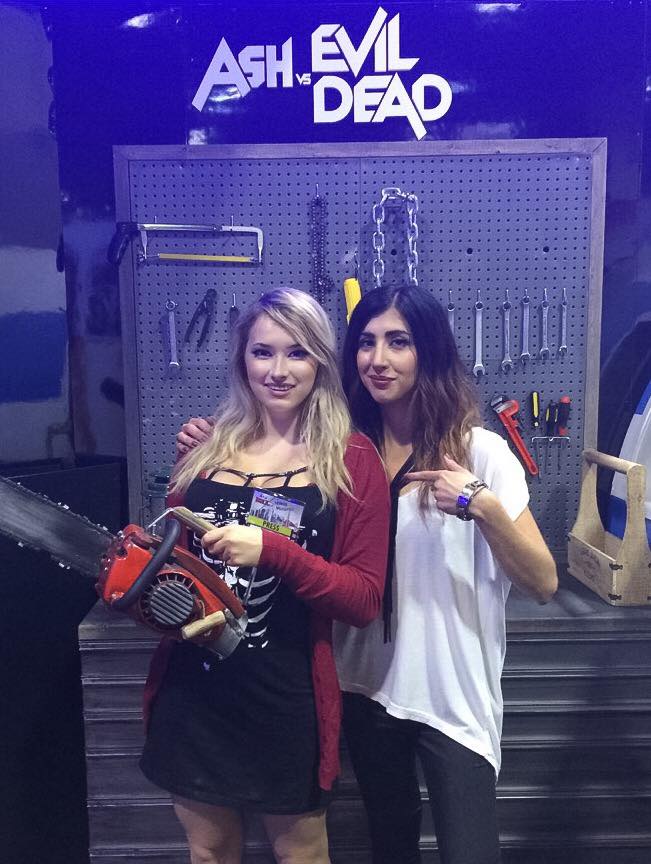 That does sounds amazing! What kind of stunts do you get to do?
Well, we have an amazing stunt team, and I shout-out to my stunt double Crystal Pratt. She does the ones that insurance will not cover me to do [laughs]. She does the tough ones. Like anytime you see Kelly getting slammed into a wall, that is my girl Crystal really getting slammed into a wall. Or like getting vomited out the cabin doors in gallons of blood, that is Crystal. But I do get to do quite a bit. I can't give anything away, but there's some in the woods in season two, and when you see that episode, let's just say there was a harness involved. I have such an incredible time doing that, because we have such an incredible stunt team that works with us and teaches us.
Do you see any of yourself in Kelly?
I do actually, and I've learned so much from her. I feel like she's very, very brave because not only because she can kick ass and pulverize a Deadite face with a meat tenderizer, but she's brave because she's not afraid to show when she's scared. She's just a regular person, so when she sees her mother put a fork through her father's eye, she's going to show that emotion. But then she immediately faces those fears and goes full speed ahead and constantly pushes herself to be a better ass kicker.
Do you see that in yourself? Wanting to be a better ass kicker?
Yes I do, I have a list and I try to be a better ass kicker on that list. [laughs] But I find that where we're similar is our sense of humor. I got to collaborate a bit with Sam Raimi and Craig DiGregorio, the show runners, and bring a bit of that busting chop humor. Kelly's always ball busting Ash and I love that sort of dry, sarcastic sense of humor, so I get to bring a lot of that.
You come from a comedy background. How do you deal with all of the gross and horror aspects in the show when you're used to being funny?
You know, it's of those things you just can't prepare for, so to quote Ash Williams: "Shoot first, think never." So I just show up on set and they're like, "Here's a can of blood. We're going to dispel 26 gallons of blood on you today" and I go, "Okay, well let's see how that goes." You know, we have such a good time doing it, it's a once-in-a-lifetime experience and nothing can go prepare you for it so you just go with it, and that's part of the excitement of doing a show like this.
If there was a person who wasn't familiar with the franchise, how would you convince them to give your show a shot?
I would say, because it has all the elements — horror, comedy, action, drama — it is 30 minutes of a roundhouse kick in the face of awesomeness. If you like to be entertained, you need to watch the show because there is something in it for everyone.
We have time for one more question. What can we look forward to in season two, and in any future roles for you as an actress?
Okay, I will say that for season two, it is double the gore, double the laughs, quadruple the blood. We have an amazing star cast added on for season two. The incredible Lee Majors will play Ash's dad, Ted Raimi joins the cast as Ash's best friend, Michelle Hurd as Ash's longlost love. And I can say is that it has the most horrific onscreen death, the scariest villain of all time, and Kelly has a lot of pent up rage but only one mission — and that is revenge. She will unleash her fury, so anyone dead or alive better stay out of her way. In terms of what is coming up for me, I have two movies, one is a short called Three Women and the other one is a feature called The Mad Ones. They are a very different speed than the show but I had such a good time filming them and they have incredible stories and incredible casts for both.
Awesome, we'll look forward to that! Thank you so much.
Thank you so much for talking to me, that was fun!