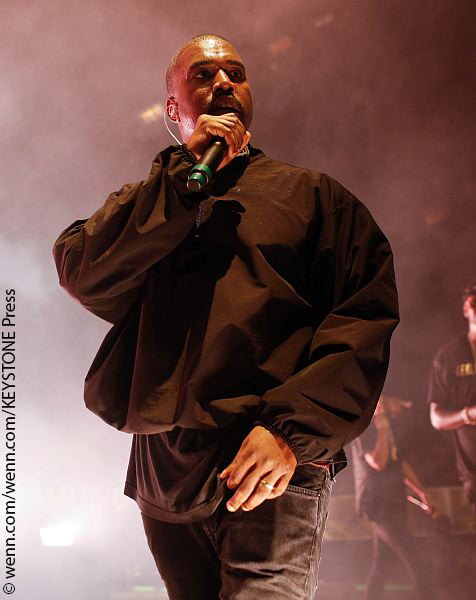 Kanye West sparks controversy yet again.
In his new music video for his song "Famous," Kanye West is depicted lying down naked with 12 wax doll figures. These lifelike dolls possess an uncanny resemblance to famous people. One doll looks like Taylor Swift, another looks like Donald Trump. The figures are all naked and asleep.
Taylor Swift is reportedly appalled with Kanye's video. A source says: "She is bewildered, feels betrayed and is beyond frustrated with Kanye. It is like a complete nightmare. Taylor is pissed to say the least!" If Taylor sues, Kanye won't be surprised. He tweeted that he's expecting to be sued: "Can somebody sue me already #I'llwait." Kanye has since deleted the tweet.
Naked figures of Rihanna, Chris Brown, Caitlyn Jenner, George W. Bush and Anna Wintour also appear in the video.
Rihanna isn't happy. "She doesn't know what the hell Kanye was thinking when he decided to throw them in the picture," a source says. "Surely, he could have chosen other politicians."
Chris Brown also responded. "Why I gotta have the plumbers butt/ crack showing WAX figure?" Brown wrote on Instagram. "This n—a KANYE CRAZY, talented, but crazy."
Former President George W. Bush wasn't happy either. "In case there was any doubt … that is not President Bush," Bush's rep said. "He is in much better shape."
"George W. Bush isn't upset about Kanye trying to find a look-alike to portray him in his new music video, but he's somewhat indignant that the faux Bush lacks muscle," the rep added.
Lena Dunham, an outspoken feminist and star of HBO's Girls, posted a Facebook essay in response to the video.
"Now I have to see the prone, unconscious, waxy bodies of famous women, twisted like they've been drugged and chucked aside at a rager? It gives me such a sickening sense of dis-ease." she writes.
Lena was equally disgusted when she saw a Bill Cosby figure sleeping next to a Donald Trump figure. She was also disturbed that Taylor Swift was depicted as nude and asleep beside Kanye, while a nude figure of Kim Kardashian slept on the other side of him.
Rapper Ray J is also upset with Kanye. His manager Cash Jones has said that Kanye better "watch his f–ing mouth."
The video of "Famous" is exclusively on Tidal.
Have you seen the video? Has Kanye finally gone too far? Share your opinion below. ~Yanis Khamsi