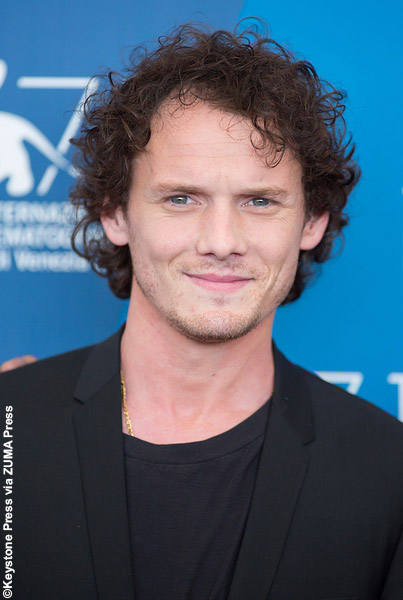 Following the shocking news that 27-year-old actor Anton Yelchin died in a freak car accident on Sunday, a swell of touching and grief-stricken tributes have emerged from all corners of Hollywood.
"Devastated by our friend's loss. We are mourning his passing and celebrating the beautiful spirit that he was, " his Star Trek co-star Zoe Saldana tweeted.
"I loved Anton Yelchin so much. He was a true artist – curious, beautiful, courageous. He was a great pal and a great son. I'm in ruins," John Cho, who plays Sulu, wrote.
Anton was best known for playing Pavel Chekov in the rebooted Star Trek films, as well as for his roles in House of D, Alpha Dog, Charlie Bartlett, Terminator Salvation, Like Crazy, and most recently the horror thriller Green Room. He was also just announced as one of the leads in the upcoming Netflix animated series Trollhunters, created and executive produced by Guillermo del Toro.
Del Toro also took to Twitter to pay his condolences to the actor whom he called "the sweetest, most humble, delightful, talented guy you'd ever meet.
"Worked together for about a year. Shocked," the director continued. "Anton was a sweetheart. Absolutely a great creative partner and artist."
At around 1 a.m. Sunday morning, the star was found pinned between his car and his security gate. He had reportedly left his home around 11 p.m. to attend a rehearsal, and his car, which was on a steep incline, rolled backwards and pinned him against the gate. New reports now claim that the accident was due to a faulty shifting mechanism in the Jeep Grand Cherokee he was driving. Apparently the recalled model has previously led drivers to leave the car in the wrong gear — in neutral rather than park — and this is exactly what caused the car to roll back into Anton.
Read more of what Anton's fans, friends, colleagues and collaborators have said these past 24 hours:
Anton Yelchin.

Genius actor. Amazing human being. Gone WAY too soon.

May he rest in peace.

— Justin Timberlake (@jtimberlake) June 20, 2016
I can't believe it , I m fckn hurting bad !

— Karl Urban (@KarlUrban) June 19, 2016
So sad to hear this news… pic.twitter.com/fyQajch5kN — Michael Giacchino (@m_giacchino) June 19, 2016
This is unreal. Anton Yelchin is such a talent. Such a huge loss.

— Anna Kendrick (@AnnaKendrick47) June 19, 2016
Just heard about #AntonYelchin what a great talent and good young man. Gone far too soon… #GodBless Terrible loss. You I'll be missed. — Chad Michael Murray (@ChadMMurray) June 19, 2016
Anton Yelchin was one of my best friends. Can't say anything that conveys what this feels like

— Kat Dennings (@OfficialKat) June 19, 2016
Terrible news about Anton Yelchin, crazily talented actor gone too soon. — Stephen King (@StephenKing) June 19, 2016
So sad to hear about Anton Yelchin, always been one of my favorite actors… Condolences to his family and friends… RIP

— Abigail Breslin (@yoabbaabba) June 19, 2016
so i guess i posted my morning song 4 #millasmusicmonday. in honor of my friend #AntonYelchin. — Milla Jovovich (@MillaJovovich) June 20, 2016
Anton Yelchin was a bright, brilliant talent, and a truly kind person. I was so taken by him, and won't ever forget his sweet smile. RIP — olivia wilde (@oliviawilde) June 19, 2016
Devastated to hear about the brilliant Anton Yelchin. He was thoughtful, kind, and gifted. My thoughts and prayers are with his family. — Chris Evans (@ChrisEvans) June 19, 2016
Beyond sad and stunned to hear about Anton Yelchin. So talented. So tragic. My thoughts are with his family and friends. — Dane DeHaan (@danedehaan) June 19, 2016
I am utterly heartbroken about this terrible news. Anton Yelchin was a gift to this world. My thoughts and prayers are with his family. — Aaron Paul (@aaronpaul_8) June 19, 2016
In absolute shock over the loss of #AntonYelchin. Absolutely horrible — Josh Gad (@joshgad) June 19, 2016
Love you A pic.twitter.com/blrzJnBpaq — Drake Doremus (@drakedoremus) June 19, 2016
Absolutely devastated to hear about Anton Yelchin. He was such a gifted, natural actor & a deeply kind man. My thoughts are with his family. — Tom Hiddleston (@twhiddleston) June 19, 2016
We're saddened to report the passing of Anton Yelchin, best known as Chekov @StarTrekMovie https://t.co/dgpY0gSuem pic.twitter.com/EXMCAJsKgx — Star Trek (@StarTrek) June 19, 2016
Soft spoken, intelligent and committed to being an artist. He was a lot more than just an actor. We will all miss you. #AntonYelchin

— Peter Sarsgaard (@petersarsgaard) June 20, 2016
Devastated. Had the pleasure of working with #AntonYelchin what a huge talent yet delightful, sweet and so humble. Heartfelt condolences — Henry Ian Cusick (@hicusick) June 19, 2016
Woke up today to find out my friend Anton Yelchin passed. What an incredible talent and all around amazing man. This sucks 💔

— Alanna Masterson (@AlannaMasterson) June 19, 2016
Yelchin is too young. He's an actor I love watching and had serious hoped for in the future. I'm so devastated. — Ryan Simpkins (@ryan_the_ryan) June 19, 2016
Anton Yelchin has always been one of my favorite actors. I've seen every movie. This is awful. Im so sorry for his family & friends.

— Kevin McHale (@druidDUDE) June 19, 2016