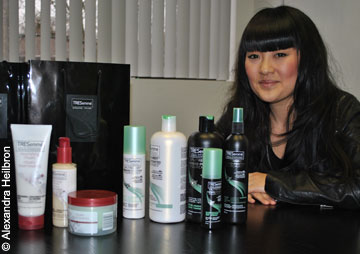 Hair stylist and makeup artist Susana Hong often works with celebrities. Some she's worked with include Juliette Lewis, Kim Cattrall, supermodel Coco Rocha, Grey's Anatomy's Sandra Oh, Nicole Richie and music giants Kid Rock, Katy Perry, Mel C. and Girlicious. She has teamed with TRESemmé for their new product line and came to Tribute to show their amazing new products and dish on her celebrity clientele.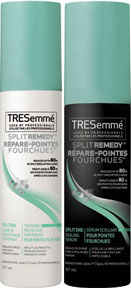 First, we were introduced to a line of new hair products launching in March from TRESemmé — Split Remedy and Nourishing Rituals. Susana says you can wait to get a haircut or trim when you use these products. "We still recommend trimming it or cutting it but now you can go longer. You still have movement in the hair, it's not making that weird crunchy noise, and still get a little bit of shine to it because it does hydrate it well. It coats the hair and gives it a nice silky shine. And I have to stress that it does not compromise volume, which is what I'm big on. I wash my hair once or twice a week so I usually stay away from anything too creamy or silky feeling. But I have to say this got rid of all my build up; it didn't make my hair itch and it didn't weigh my hair down, which is fantastic."
"I like to use the Leave In Conditioning Treatment for a little extra nourishment; a little extra shine and a little frizz control as well. If you don't like using rinse out conditioners, this is a great option. You can use it in place of your regular conditioner.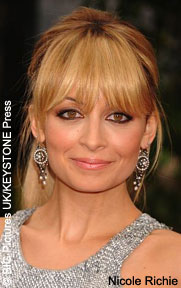 The Split End Sealing Serum is the star product for me, it's fantastic. It gives your hair a nice vibrancy, smoothness, frizz taming but it's also humidity resistant which is amazing. I usually stay away from silicone serums because having flat hair is not an option when you're on set. But it doesn't weigh the hair down which is amazing. So you would use it as you would any sort of serum on damp hair before any heat styling or before it dries. What I like to do also is just add a little bit on my hand just to warm it up and just smooth out the fly away hair for an extra bit of shine and bounce. It might go on a little bit wet looking at first, but it dries within a minute or two. It's amazing."
"The Nourishing Rituals line is to strengthen the hair and prevent breakage, to make the hair shaft stronger. These kind of luxury products are usually really expensive so even if we do buy them, we're stingy with them so do you really get the benefit? At $5.99 you can get the full benefit from

this product because you're not afraid to use it. The Protein Renewal Creme reduces breakage by 97 per cent after the first use. It works. So each of these products you would leave in for 3 to 5 minutes minimal and then rinse out. The Liquid Gold Shine Therapy has the infused microcrystals. If you want to revive dull hair, give a little lustre and shine back to it. I've seen these microcrystals in pomade; I've never seen it in a conditioner. People with long hair, we never use pomade, ever. So it's nice that they've incorporated it in this so I can use it too."
"My absolute favorite product out of the treatments is the Rejuvenating Mud Masque. It makes the hair ten times stronger after just the first use. I would never recommend using conditioner on the scalp, but this one you can because it's got the deep sea minerals. It actually exfoliates the scalp as well."
"I've been using TRESemmé's styling products on celebrities for about seven years now. What I like about TRESemmé is it does what it says. Nothing too fancy, no fluff, it's fantastic."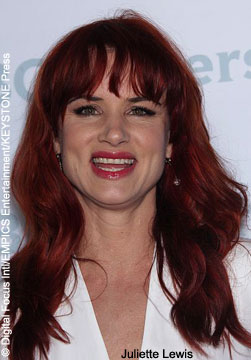 Have you ever had a celebrity say "Just do what you want?"
SH: No. They all have opinions on how they want to look. Some are much easier than others; they just say give me a texture.
Susana went on to tell us a little about the celebrities she's worked with. "Sandra Oh has a massive amount of hair and it's wavy and curly, which is really unusual for an Asian girl. It took me about three hours just to tame it. I could not believe it, I was like, "This is all yours!" She was lovely. She was one of those people I actually want to be friends with and kind of stalk (laughs). "
"I've been working with Juliette Lewis recently, who's here in Toronto shooting the new TV series The Firm. She's very picky about her hair. She's kind of quirky; she likes to do her own thing; she's very particular about her look at the moment. She's rocking this pseudo-glam/rock look. I always think of her as a cool person."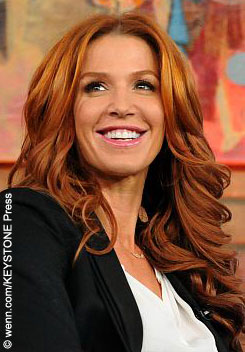 "Poppy Montgomery I just recently worked with as well. (Susana did Poppy's makeup for her appearance on The Marilyn Denis show in Toronto at left) I didn't even know who she was because I don't watch TV. She was in Toronto doing press for her new TV show, Unforgettable. I've got to say, she's the funniest person in the whole world. She has gorgeous red hair, too. She's pretty low maintenance. I kind of like not knowing who they are prior to going in. When I know who they are and if I'm a fan, I get a little nervous. Like Spice Girls, Mel C., I was like, Oh my god, it's a Spice Girl! I love her so much. And then Nicole Richie, who I love too, she's really quiet. I can't believe how tiny she is. Her hands are small, everything's small on her. She's pretty easy maintenance. I think when you get to point of being A-List, you get there for a reason. You don't get there being a jerk. Some of the B-Listers I work with can be, but the A-Listers are all lovely."
What about Kim Cattrall?
She's a really lovely lady I've got to say, but she knows what she wants to look like and she likes to finish it herself after we do the initial curling and the styling. Whatever she feels comfortable with.
Do you ever do guys' makeup or hair?
Yeah, all the time! A lot of musicians like Kid Rock. Peter Krause (Parenthood) — he's so cute and so nice. I want to marry him (laughs).
TRESemmé's Split Remedy and Nourishing Rituals are $5.99 each and will be available at all drug, mass merchandise and grocery stores starting March 2012.