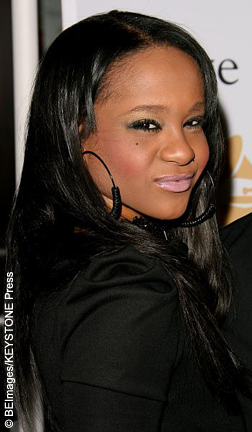 Well wishes have been pouring in for Whitney Houston's daughter, Bobbi Kristina Brown, 21.
Bobbi Kristina's husband Nick Gordon found her face down and unresponsive in the bathtub of their home in Roswell, Georgia on Saturday, January 31 – almost three years to the day her mother, Whitney, was found dead in a bathtub one day before the Grammy Awards. Bobbi Kristina was given CPR and rushed to an Atlanta hospital.
"Her husband and a friend located her in a bath tub this morning and she was unresponsive," the Roswell Police Department wrote in a Facebook post. "He started CPR and a police officer took over life-saving measures until an ambulance arrived. She was transported to the hospital. Please keep her and the family in your thoughts and prayers."
Since Saturday, celebrities have been tweeting their support for Bobbi Kristina and the Brown family.
Missy Elliot tweeted:
Still Praying 4 Bobbi Kristina I see sum ppl making jokes😞She lost her mom thats tougher than u may think 2 deal with

— Missy Elliott (@MissyElliott) February 1, 2015
Other stars tweeting their support include LaToya Jackson, Ciara and Holly Robinson-Peete.
Let's All Send Love Light & Prayers To Bobbi Kristina Brown! Wishing Her A Healthy & Speedy Recovery!

— La Toya Jackson (@latoyajackson) February 1, 2015
Prayers For Bobbi Kristina 🙏

— Ciara (@ciara) January 31, 2015
I just hope and pray Bobbi Kristina gets through this extraordinarily rough time. She is such a sweet young lady dealing with so much.💔🙏

— Holly Robinson Peete (@hollyrpeete) January 31, 2015
Diane Warren, who wrote many of Whitney's hits, tweeted:
I hope Bobbi Kristina gets the help she needs Poor thing, almost 3 yrs to the day her mom passed and the same thing almost happened to her.

— Diane Warren (@Diane_Warren) January 31, 2015
In a statement to E! News, her father Bobby said, "Privacy is requested in this matter. Please allow for my family to deal with this matter and give my daughter the love and support she needs at this time."
According to reports, Bobbi Kristina is currently in a medically induced coma. Neurologist Eli Zimmerman (Massachussetts General Hospital) said, "Even minutes [without air] can be grim."
Reports also state that, according to a family source, Bobbi Kristina remains on a respirator with very little brain activity, adding that doctors say a recovery is technically possible, but it will be a miracle.
Despite rocky relationships, the Browns and Houstons have put their differences aside during this time.
Bobbi Kristina is the only child of Bobby Brown and the late Whitney Houston. ~Sandra D. Sukraj