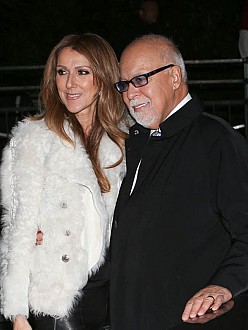 Celine Dion admits René Angélil is no longer able to feed himself.
The singer, who postponed all of her upcoming shows at Caesars Palace Hotel and Casino in Las Vegas for a year last August to care for her ailing husband, who was diagnosed with throat cancer in December 2013, says he now gets all of his meals through a tube.
The 46-year-old singer said: "He can't use his mouth. He can't eat so I feed him. He's got a feeding tube. I have to feed him three times a day. I do this myself. So I feed my husband, then I feed my kids."
But the Canadian star, who has 14-year-old son René Charles and four-year-old twin boys, Eddy and Nelson, with her 73-year-old former manager, insists she hasn't given up hope that he will recover.
She told ABC News: "We are taking life one day at a time. [But] we are choosing to live."
During the emotional interview, which aired on Good Morning America this morning, Celine also opened up about her decision to step-back from her stage show until next August. She said: "Oh, I mean come on. The fans, they know that I'm an open book. I sing, that's the only thing I know."