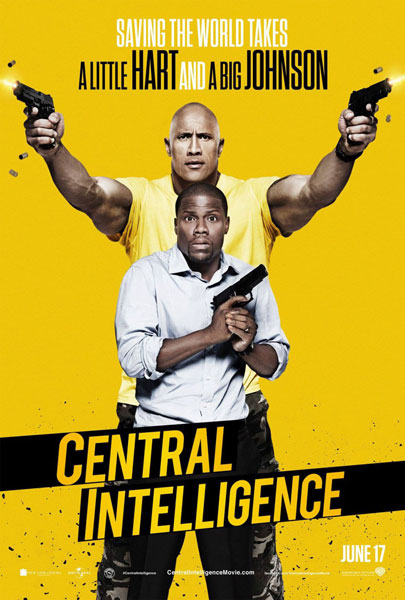 Central Intelligence is the new buddy cop comedy to hit the big screens today. Bob Stone (Dwayne Johnson), an uncool kid who was bullied in high school, is a lethal CIA agent 20 years later. Claiming to be on a top secret mission, he enlists the help of former "Most Likely to Succeed" high school champ Calvin (Kevin Hart), who feels he's unsuccessful living the life of an accountant while his wife is a partner at her firm.
Our team members Marriska Fernandes, Emily Hatfield and Dan Porter watched the advanced screening and here's what they thought about the film.
Dan: Kevin Hart and Dwayne "The Rock" Johnson have real on-camera chemistry. From even watching some of the promos for the film, you can tell there's a genuine friendship between the two. Not to mention the hilarious size difference. In terms of their onscreen performance, I loved it. I didn't know how The Rock would do in a comedy, but I was blown away. He was solid…as a rock…in terms of his comedic delivery. As for Kevin Hart, the guy is a star. Anything he puts out is always going to get a laugh. The back and forth bickering of their cinematic relationship is worthy of watching again.
Marriska: I'm not the biggest fan of Kevin Hart so I had not set a really high bar for the film. That being said, I was curious to see the Dwayne-Kevin rapport as they did an amazing job at hosting the MTV Movie Awards. I'm happy to say I loved the film. It was hilarious! Dwayne Johnson and Kevin Hart delivered stellar performances and their camaraderie was refreshing. They have great comic timing and I was impressed at how they both had their moments to shine. Who knew the Rock had such comedic muscles?
Dan: He was quite pec-tacular.
Marriska: Hah! Well-said, Dan. I also liked the strong anti-bullying message layered beneath the comic cape. I would also watch it again.

Emily: I haven't been a fan of Dwayne Johnson's acting ever since I saw him in Tooth Fairy. Kevin Hart carried Dwayne through all the comedic scenes — if they weren't such good friends, then the film would have been a huge flop. Thankfully Dwayne knows when to laugh at himself.
Marriska: Dwayne was pretty impressive. And yes, Kevin Hart surprised me. I enjoyed watching him on screen. I think this is one of his better films, since he doesn't play the comedian but a straight-laced guy.
Dan: Stone Cold (WWE reference)! I agree he was a very enthusiastic actor, that being said I think it played well into his character. From the beginning, when you see his character "Robbie" you knew that there was going to be some hilarious personality developments. I have to say I thought he did a great job as a comedic actor.
Emily: Overall I think Kevin and Dwayne are a great duo on screen. Dwayne sets up all of the comedic scenes for Kevin to knock out of the park.
Dan: The Rock wrestled with finding his mojo, however when the more serious scenes emerged he was an easy sell as the action star.
Emily: Can we all take a second to appreciate the Breaking Bad reference when Aaron Paul's character said "Bitch?"
Marriska: Right! Loved that reference! I really liked some of the pop culture references, be it Taylor Swift or Denzel Washington. There were some serious laugh-till-hurts moments.
Emily: Yes, and when Kevin yelled "F**K Mark Zuckerberg, this is all Facebook's fault!" Gold.
Dan: The cameos were such a welcome addition to the film. It was im-pec-able casting of the cameo roles that would have been underwhelming had it not been for the perfect selection of personalities. As they say, you can do anything with a small Hart and a big Johnson.
Emily: Yes, the cameos were spot on.
Dan: Would you like to see those two in another film together?
Emily: Yes. The movie was funny without being callous. It was the perfect combination of humor with a positive and relatable message. I give it a 7 out of 10, B.
Marriska: I would like to see this dynamic duo in another movie. I give it a Rock-ing eight and a half harts, A-
Dan: I give it a pec-tacular 9 out of 10, A+
If you have seen Central Intelligence and would like to share your review of the movie, click here to rate and/or review it! We'd love to hear your thoughts!