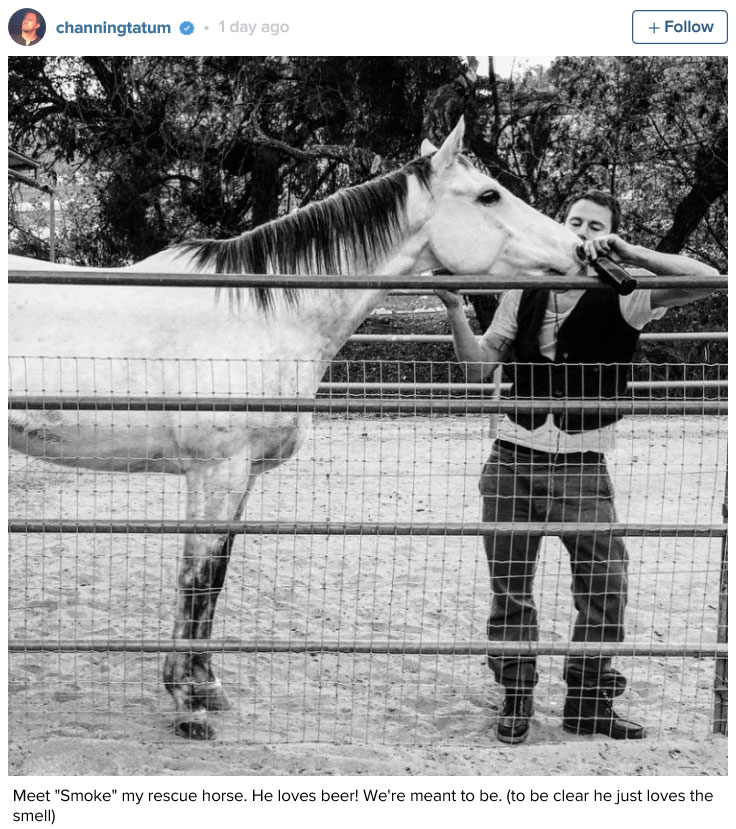 Channing Tatum posted a photo of his rescue horse named Smoke on Instagram on Tuesday and it appears Smoke loves beer – at least, he loves smelling it! The photo, shown above, is of Channing holding up a bottle of beer so Smoke can take a good whiff.
Channing, who rode a horse in the 2011 movie The Eagle, spent a lot of time at his uncle's farm, Iron Horse Ranch, while growing up and that's where he learned to love horses. He and his wife often visit there, and both ride.
In 2007, the big-hearted actor also rescued a pit bull whom he named Lulu [who gets her fair share of social media exposure], and his wife, Jenna Dewan-Tatum has a miniature Japanese Spitz dog. The couple also have an adorable two-year-old daughter, Everly Elizabeth Maiselle.
After letting Smoke have his sniff, Channing apparently drinks the beer himself. Cheers!