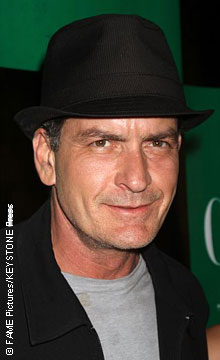 When Charlie Sheen and his then-fiancée Brett Rossi called off their engagement in October 2014, there was little said about the reason why.
Now, months later, a witness has come forward citing the reason as domestic abuse, claiming Charlie attempted to "strangle and choke" the porn star, who also goes by Scottine. The witness also alleges that Charlie asked her, "Do you want to live to see tomorrow?" during a fight and kicked her while she was pregnant.
The source added, "Charlie was both verbally and physically abusive to the point where Scottine would hide in the security room at his home, cowering in a ball, crying about his abusiveness."
Now, Scottine is threatening to hit back — with a multi-million dollar lawsuit, that is, unless he settles out of court to ensure her silence. According to reports, photos given to The National Enquirer of an alleged May assault will be used as evidence, showing "bruising along her neck, a torn shirt and tears running down her face."
Charlie's lawyer has denied these allegations, stating, "Mr. Sheen never kicked Ms. Rossi when she was pregnant, never strangled and choked her and never made threats to kill her."
The allegations are apparently flying on Charlie's end, too, with a source close to him claiming that it was Charlie who had to restrain Scottine to prevent her from hurting herself and him.
"These allegations have only surfaced since Charlie started dating other women after their breakup," the source countered. "She is jealous. Friends have told Charlie that Scottine is his 'Fatal Attraction.'"
Charlie has previously been accused of domestic abuse and uttering threats from past lovers, such as Denise Richards and Brooke Mueller. Who do you believe? ~Sandra D. Sukraj