Charlie Sheen rejected Two and a Half Men finale return
By Tribute News on February 20, 2015 | 1 Comment
Charlie Sheen rejected the chance to appear on the Two and a Half Men finale last night. Chuck Lorre, the CBS show's creator, claims the 49-year-old actor – who spectacularly fell out with the writer in 2011 resulting in his contract being terminated – turned down the opportunity to make an appearance in the program's finale ever episode, in which he would've had to say he was a "ninja warrior from Mars."
Poking fun at Charlie – who was the main star of the show from 2003 to 2011 until he was fired for his erratic antics and ranting about the co-creator – Chuck wrote on his official website: "I know a lot of you might be disappointed that you didn't get to see Charlie Sheen in tonight's finale. For the record, he was offered a role. Our idea was to have him walk up to the front door in the last scene, ring the doorbell, then turn, look directly into the camera and go off on a maniacal rant about the dangers of drug abuse. He would then explain that these dangers only applied to average people. That he was far from average. He was a ninja warrior from Mars. He was invincible. And then we would drop a piano on him. We thought it was funny. He didn't."
Chuck, 62, also claimed Charlie wanted him to write a scene based on his Two and a Half Men character Charlie Harper – who was thought to have been dead – and his brother Alan Harper (Jon Cryer) to set up a potential new show they could make, but the writer insists the idea was laughed off.
He wrote: "Instead, he wanted us to write a heart-warming scene that would set up his return to primetime TV in a new sitcom called 'The Harpers' starring him and Jon Cryer. We thought that was funny too."
While Charlie didn't appear in last night's hour-long finale, his character Charlie Harper was much talked about during the episode as being alive and well, and an actor dressed in his clothes with his back to the audience rang the doorbell in the final part of the show only to have a piano, just like the one he used to play, dropped on his head by Chuck.
The camera then panned out for viewers to see Chuck turn around in his chair, look into the camera and say, "Winning" – a word associated with Sheen as he often tweets about himself "winning" at life – before he was also hit by a piano.
The episode was titled Of Course He's Dead in a nod to Harper after he was supposedly killed by a train in France, but there are several references in the show to Charlie in fact being alive, including one that revealed his neighbor Rose (Melanie Lynskey) has been keeping him in her basement for the last four years.
Several references to Sheen's real life were made in the episode, including Alan finding a "rant about a former employer" and a text sent to Walden – played by Ashton Kutcher, who replaced Sheen on the show – featuring a number of Sheen-isms, including "tiger blood" and "army of assassins."
The episode also featured several characters returning including Angus T. Jones – who plays Alan's son Jake – as well as Marin Hinkle, April Bowlby and Courtney Thorne-Smith, who play Alan's exes Judith, Kandi and Lyndsey respectively.
Arnold Schwarzenegger, Christian Slater and John Stamos also made cameos in the last episode, which marked the end of the show's 12th and final season.
---
---
---
---
Similar Articles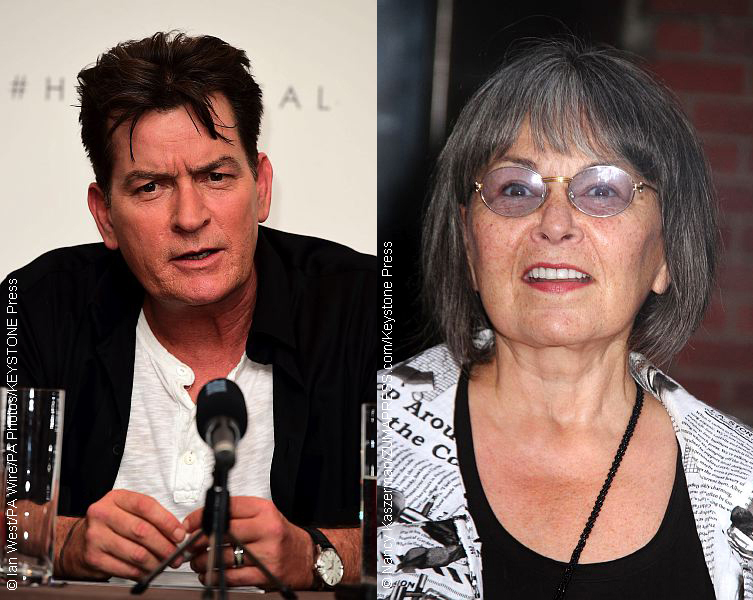 May 30, 2018 | 22 Comments
Charlie Sheen says "good riddance" to Roseanne after the show was canceled following Roseanne Barr's racist tweet, and calls for a reboot of Two and a Half Men.
---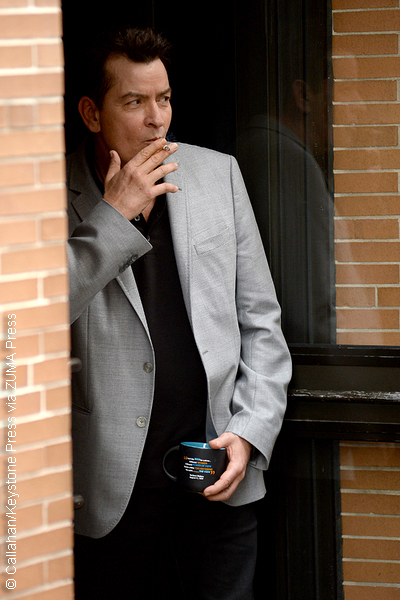 June 26, 2017 | 3 Comments
Charlie Sheen is being sued by another ex-lover for failing to reveal his HIV diagnosis to her. Charlie revealed he was HIV positive in 2015 on the Today show.
---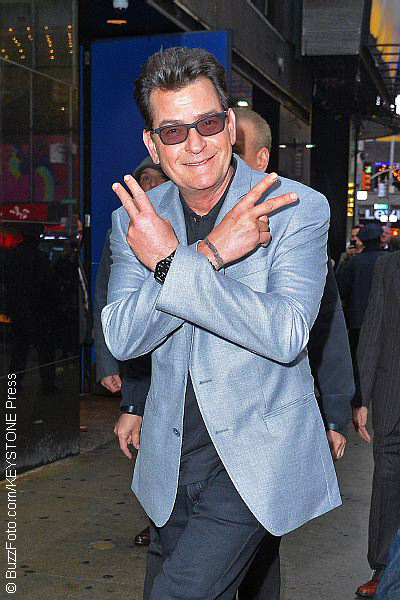 March 23, 2017 | 8 Comments
Former Two and a Half Men star Charlie Sheen was featured on an Australian radio show and said he knows which other celebrities, besides himself, are HIV-positive.
---