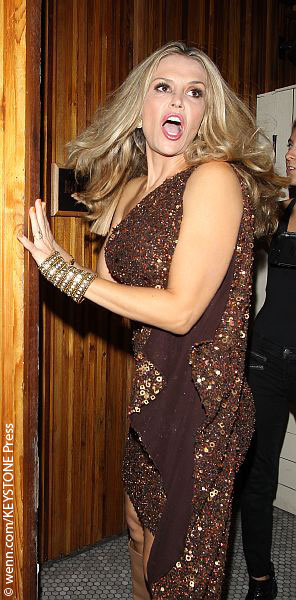 A police search for Charlie Sheen's ex-wife Brooke Mueller and their twin boys has been called off after Brooke and the children were spotted.
TMZ has reported that Brooke and seven-year-olds Bob and Max were seen making a getaway in an SUV early yesterday (Nov. 16) after eyewitnesses called authorities out of concern for the boys.
One of those witnesses claims that he and some friends were driving by a car wash in Salt Lake City around 6 a.m. when they saw a woman swinging at two children. They stopped and confronted her, but said she began shouting.
The man said he didn't initially recognize Brooke, but realized it was her once the pair came face-to-face.
He said the actress seemed "high as a kite" and that the twin boys, who were in pajamas and without shoes, begged him and his friends not to call the police for fear they'd be taken away from their mother. The men disregarded their pleas and called the cops anyway.
Shortly after the encounter, the witness said Brooke went into a nearby motel, emerged with an individual believed to be an assistant or nanny, and escaped in a black Escalade with the children. Following their getaway, police arrived.
TMZ wrote: "Utah's state police have spoken to Brooke by phone, and no longer think the children are in danger. They're also saying she didn't commit a crime."
On the evening of Tuesday, Nov. 15, Brooke, the twins and the person understood to be the nanny entered a Salt Lake City bar. TMZ broke the news, describing Brooke's behavior as "bizarre," and noting that she was barefoot, looked "disheveled" and had "tried to bum a cigarette" before getting into an altercation and wandering the city in search of a motel room. That's when police were notified and the search began.
Brooke, 39, and Charlie, 51, filed for divorce in 2010. She relocated to Utah earlier this year for rehab and has lived there since, to receive outpatient treatment.
What do you make of this story? Should Brooke retain custody of the children? Share your thoughts with us. ~Matthew Pariselli