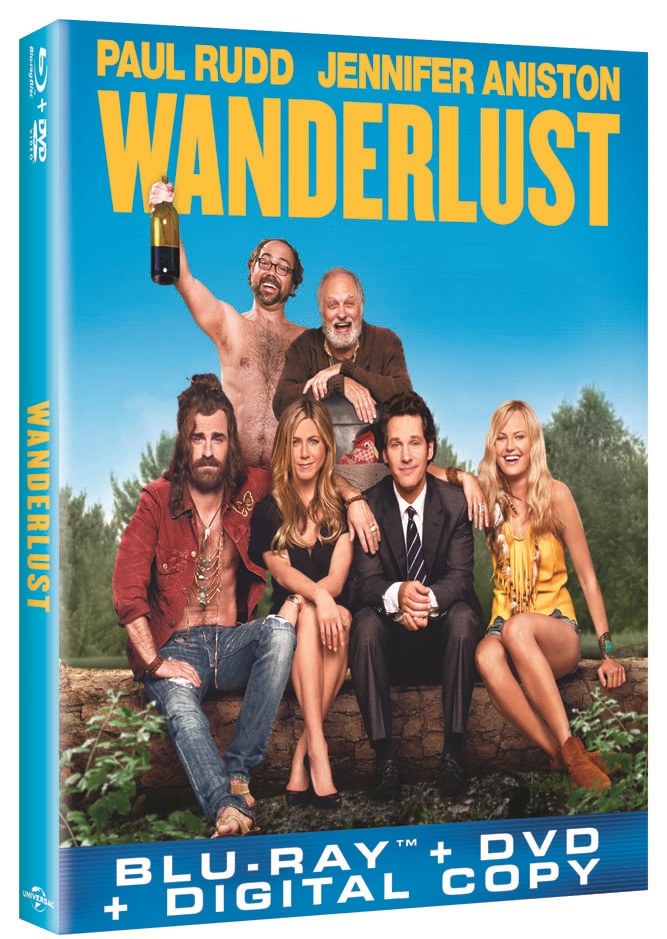 How nice would it be to leave behind your busy city life for something a little more carefree? Imagine trading in your nine-to-five job, your cell phone and your gas-guzzling car for afternoons of yoga and evenings of music and bonfires. This is exactly what George (Paul Rudd) and Linda (Jennifer Aniston) end up doing in the comedy Wanderlust.
On the same day that Linda, a struggling filmmaker, is turned down by HBO for her documentary about cancerous penguins, George is fired from his job thanks to his company's run-in with the FBI. To make matters worse, the couple just spent all their savings on a "micro-loft" in New York's chic West Village — in other words, an over-priced, under-sized studio apartment in the city. Forced to cut their losses and sell, they pack up and head to Atlanta, where George's obnoxious businessman brother (Ken Marino) offers to give him a job. After hours of driving, George decides to turn into a nearby bed and breakfast called Elysium, but they quickly change their mind when the first thing they see is a man (Joe Lo Truglio) outside wearing nothing but his birthday suit and a smile. They try to make a quick getaway but instead end up flipping their car, forcing them to spend the night.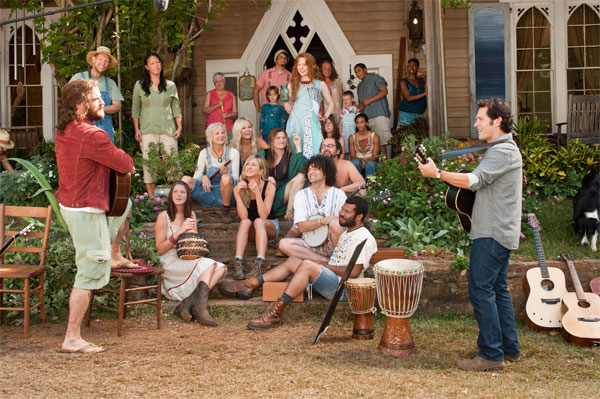 Linda and George settle in to get some rest, only to be kept up by loud noises coming from down the hall. Tired and frustrated, Linda sends her husband to investigate and when he doesn't come back, she finds him in the living room, mellowing out (a.k.a. getting high) with a group of eccentric hippie characters — like former New Yorker Eva (Malin Akerman), the hotel's owner Carvin (Alan Alda) and Seth (Justin Theroux), the leader of the pack. The couple soon learns that Elysium is not your average roadside inn but rather a commune, or as they call it, an "intentional community."
After a night of feeling more alive than they have in a long time, Linda and George say goodbye to their new friends and continue on to Atlanta where they move in with his brother. Not surprisingly, it isn't long before George has a change of heart. "Who knows how many days any of us have on this Earth. I want to fill mine with laughter, happiness and love," he yells. "Let's get the f*ck outta here!" So they head back to Elysium for a simple life of free love, truth and no doors. But as it turns out, the idyllic community isn't as perfect as they originally thought.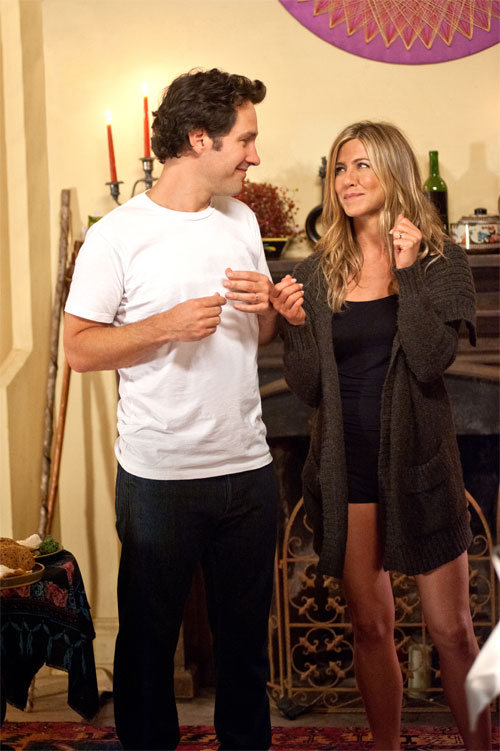 While the film does have its funny moments — usually the scenarios involving Rudd's awkward behavior and sarcastic comments — there are one too many scenes that either leave you scratching your head or completely speechless, and not in a good way. That being said, watching Wanderlust is like being at Elysium: a simple and carefree way to pass an hour or two, doesn't require much thought and really can be a good time if you can keep an open mind.
Wanderlust is available today on DVD and Blu-ray. Special features on the DVD include deleted, extended and alternate scenes. Bonus features on the Blu-ray + DVD Combo Pack include a gag reel; a nine-minute improv segment; a behind-the-scenes video with cast and crew; Penis Envy, a mockumentary about Truglio wearing a prosthetic penis for his role; The Elysium Campaign, a video about what it would be like if President Barack Obama had a role in the film; Wainy Days – Elysium, an exclusive episode of director/writer/producer David Wain's web series "Wainy Days" featuring the film's cast; and a feature commentary by Wain, writer/producer Ken Marino and Paul Rudd. ~Soriyya Bawa
Other movies releasing on DVD this week include: Big Miracle; Jeff, Who Lives at Home; Keyhole; Project X and Seeking Justice.