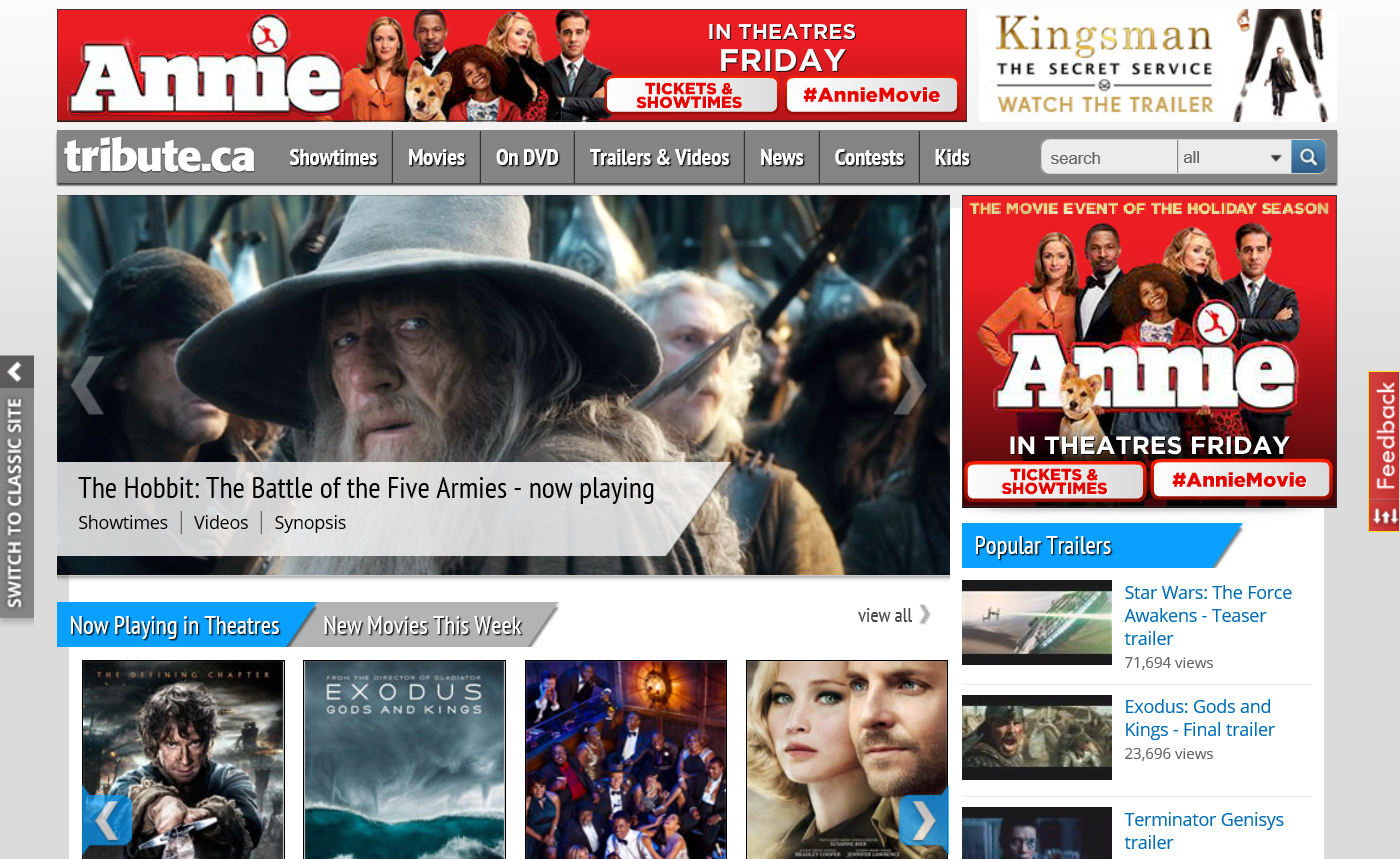 As you've probably noticed we have a brand new look to our site! Tribute.ca has received the full "Hollywood" makeover treatment to make your experience more enjoyable and of course easier! We've added tons of new bells and whistles but first and foremost the site–including videos–is now supported on all popular browsers and platforms so you can browse on your mobile device or tablet.
Even better, there's a floating menu on mobile screens for you to quickly navigate the popular Now Playing, Coming Soon and Showtimes sections. We've also upgraded our search bar by now featuring search suggestions while you're typing to make your experience that much easier.
You can now easily find showtimes for your city, a specific theatre or movie by clicking on showtimes in the top menu. Not sure which theatre is closest to you? No problem! The "Cinema Near Me" button pinpoints your current location and quickly finds the closest theatres to you. Have you ever wanted to see a movie poster based on only the poster? Now the movie posters appear right next to the showtimes result to give you a glimpse into the movie beforehand.
The site also has a great new feature that can remember your preferred viewing option. Whether you love seeing movie information clearly laid out in list form or enjoy seeing the information displayed in grid form along with the poster, the choice is yours. Even better, if you want to switch it up, it's as easy as clicking a button.
The new site also has video thumbnails everywhere instead of just links. The thumbnails let you know the length of the video and the total view count so you can decide if you have time to watch it now. Can't get enough of a certain video or want to share it with friends? Now you can easily embed the video into your own site using our embed video options, which can be found directly under each video.
Have an idea on how to make the site even better? Or just want to tell us how much you love the new look? We want to hear from you! Click on the feedback button on the right hand side and let us know!
What are you waiting for? Go see everything the new site has to offer! However, if you're not ready to let go just yet you can easily switch over to the classic site by clicking the button on the left side of your browser. ~Janine Wyslobicky