Chloe Grace Moretz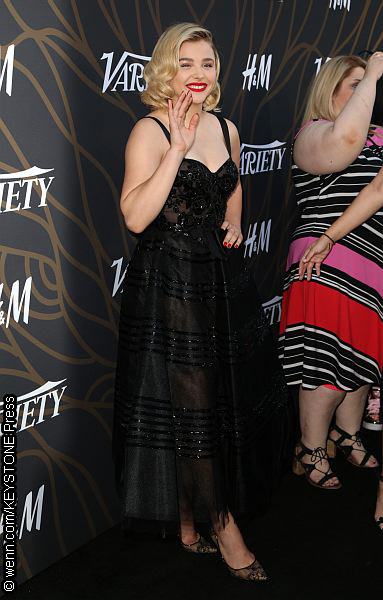 , 20, opened up to Variety about being fat-shamed by a male co-star on the set of a movie when she was just 15 years old.
"This guy that was my love interest was like, 'I'd never date you in a real life,' and I was like, 'What?' And he was like, 'Yeah, you're too big for me' — as in my size," Chloe said during an interview for the cover story of Variety's August 2017 issue. She added, "It was one of the only actors that ever made me cry on set."
Chloe wouldn't reveal the young man's name, but said he was "23, 24 or 25" at the time.
By our estimates, that would mean the movie was filmed in 2012 and would likely have been released in 2013. She had two movies released in 2013: Kick-Ass 2 and Carrie.
However, she doesn't really have a love interest in Kick-Ass 2, unless you count Dave (Aaron Taylor-Johnson, 23 at the time), although she does go on a date of sorts with a guy named Simon, played by Wesley Morgan, who would have turned 22 during filming. In Carrie, she also doesn't really have a love interest, but is taken to prom by Tommy Ross (Ansel Elgort, only 18 at the time).
On Twitter, people were speculating whether it was either Aaron Taylor-Johnson or Jamie Blackley, who was her love interest in If I Stay (2014), but Chloe's brother, Trevor Duke-Moretz denied it was either of them. See below for the tweets. He added that the actor in question "isn't even really acting anymore." Wesley Morgan's last credits were in 2015.
Chloe confided to the magazine: "I went bawling to my brother and he was like, 'What happened?' And I was like, 'He told me I was too big.' And my brother was like, 'What just happened?' My brother was so angry. I had to pick it up and go back on set and pretend he was a love interest, and it was really hard… It just makes you realize that there are some really bad people out there and for some reason, he felt the need to say that to me. You have to kind of forgive and not forget really, but it was just like wow. It was jarring. I look back on it and I was 15, which is really, really dark."
Chloe continues to work steadily, with four movies in post-production (including November Criminals with Ansel Elgort and Amazon's Suspiria with Tilda Swinton) and two in pre-production. ~Alexandra Heilbron
I don't want to speculate or potentially hurt anyone, the guy, to my knowledge isn't even really acting anymore. Let's rest it. https://t.co/FQnyM1bUqT

— Trevor Duke-Moretz (@TrevorDMoretz) August 8, 2017
Not at all, love Mr Blackley https://t.co/Su0fD3NdXY

— Trevor Duke-Moretz (@TrevorDMoretz) August 8, 2017
God no, love that kid https://t.co/cibIbqeB9E

— Trevor Duke-Moretz (@TrevorDMoretz) August 8, 2017