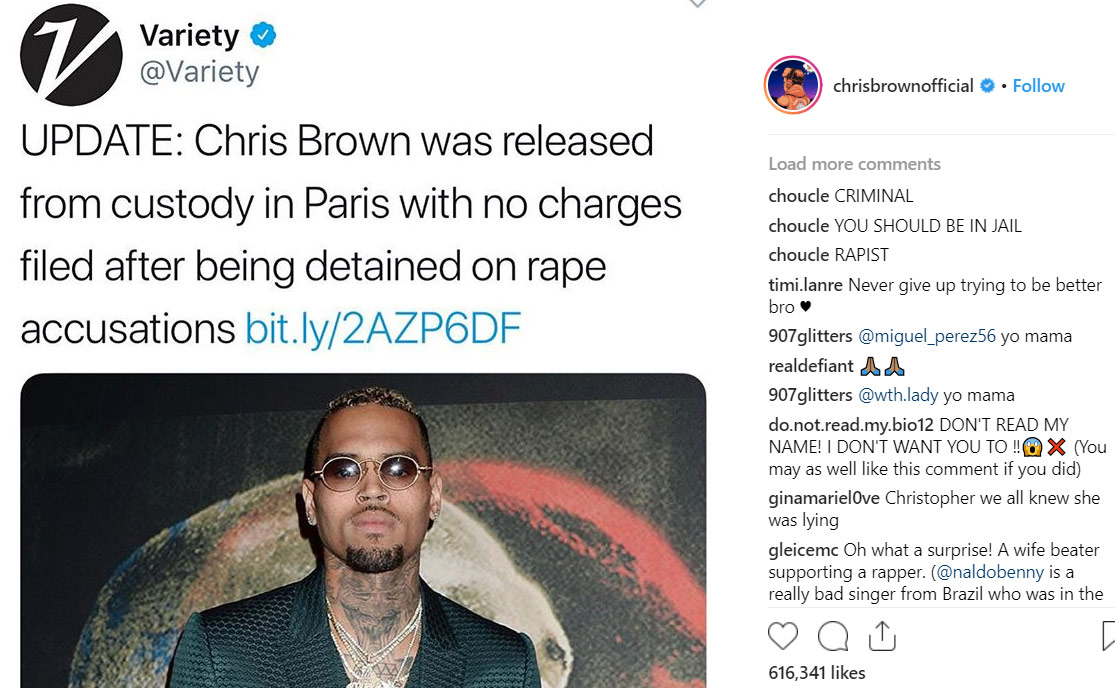 After Chris Brown was detained and released in Paris on sexual assault charges, his lawyer Raphael Chiche says they will sue the alleged victim for defamation.
On Tuesday, the singer was arrested in France after a young woman claimed he raped her in a hotel room in Paris last week. Brown, his bodyguard and another unidentified man were held by French officials to be questioned, but were later released with no charges.
Immediately after Brown's release he posted a picture on Instagram with the caption, "I WANNA MAKE IT PERFECTLY CLEAR…… THIS IS FALSE AND A WHOLE LOT OF CAP! (sic)"
His lawyer said, "A complaint for slanderous denunciation will be filed tomorrow with the Public Prosecutor of Paris," he continued. "The charges against Chris Brown have not been dropped and investigations are still going on but Chris Brown has not been sued by prosecution."
Since the singer's detainment, multiple artists have come to his defence, including Justin Bieber and Nick Cannon.
Justin Bieber posted words of encouragement ("No one can touch you ur the GOAT") on Chris Brown's Instagram, for which he has been criticized, with other users writing: "Is he even relevant today?" "Girl. Bye." "What a shame @justinbieber defending rapists 🤢🤮💩 @haileybieber i wish you all the best 😂🤣" and "Seriously? Supporting a rapist???? Did you forget the 90% of your fans are women?"
However, this is just the latest in a series of encounters with the law for Brown, who served five years probation and performed community service for violently assaulting Rihanna in 2009. In 2013, he was arrested for felony assault and in 2016, he was arrested on suspicion of assault with a deadly weapon.
What started off as a good year for Brown has quickly gone south. Earlier this month he released a new song titled "Undecided," announced an upcoming album titled Indigo and has signed a new record deal, making him one of the youngest artists to own his own masters.
However, assault charges and arrests seem to be like water off a duck's back for Brown — his latest release doesn't come as a surprise.
Let us know what you think about him being released below. Are you still a fan? ~Emily Chavez


Loading ...