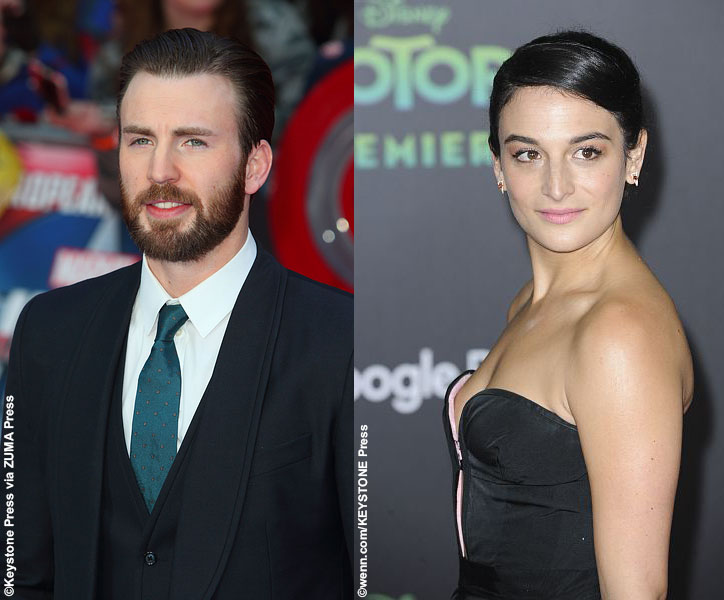 Now we know whose side of the civil war Jenny Slate is on.
The Parks and Recreation alum is reportedly dating Captain America: Civil War star Chris Evans, according to a source at Us Weekly. The two began their relationship less than two weeks after news broke of the actress' split with her husband, Dean Fleischer-Camp.
Chris and Jenny, both 34, met last year on the set of their upcoming drama Gifted. A report claims that the two went on a date with Chris' brother, Scott Evans, as far back as March.
The pair recently appeared on Anna Faris' podcast Unqualified, where the Zootopia star sang her co-star's praises.
"I didn't know what to expect when I met Chris, I was a little scared because I kind of felt like, 'Well, I don't know him. He's a giant man with huge muscles and he's Captain America. How could we ever connect?' [But the] first night that we hung out I was like, 'Wow, I could hang out with Chris for like 90 hours,'" she said.
The Avengers actor heartily agreed, "Oddly enough, I've only known Jenny for a few months, which is insane to say because we're like the same animal."
Jenny was married to her film editor husband for three years, while Chris has never been married, but has previously dated actresses Minka Kelly and Jessica Biel, and has been linked to Lily Collins, Sandra Bullock and most recently Jennifer Lawrence. ~Shelby Morton