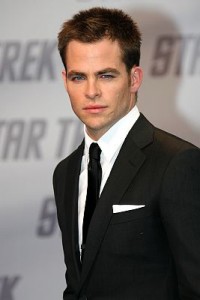 Star Trek fans take note: Chris Pine's Kirk is getting a love interest in Star Trek Into Darkness, the sequel  to the 2009 film which also starred Zachary Quinto, Simon Pegg, Zoe Saldana and Leonard Nimoy.
Pine revealed on his facebook page that he has read the script and that he can assure fans that it's going to be great one.
"After a thousand questions regarding the Star Trek sequel I can finally say I am holding the draft script in my hand.  I can also now tell you I have a love interest and it's all looking very exciting. Sorry but I can't give you a date for filming yet, but you guys are going to love it!"
While little else is known about the plot to the much-anticipated follow up, what is known is that it will focus heavily on a villain. Original rumors indicated that Khan would be the villain, but now sources are saying that Khan won't be in the sequel. Sources are saying that they've been told that the sequel's story will go against having a traditional villain. Instead, Star Trek Into Darkness will focus on one of five characters from the original series. Star Trek Into Darkness is set to open on June 29, 2012.
Who do you think the villain will be?