The Magnificent Seven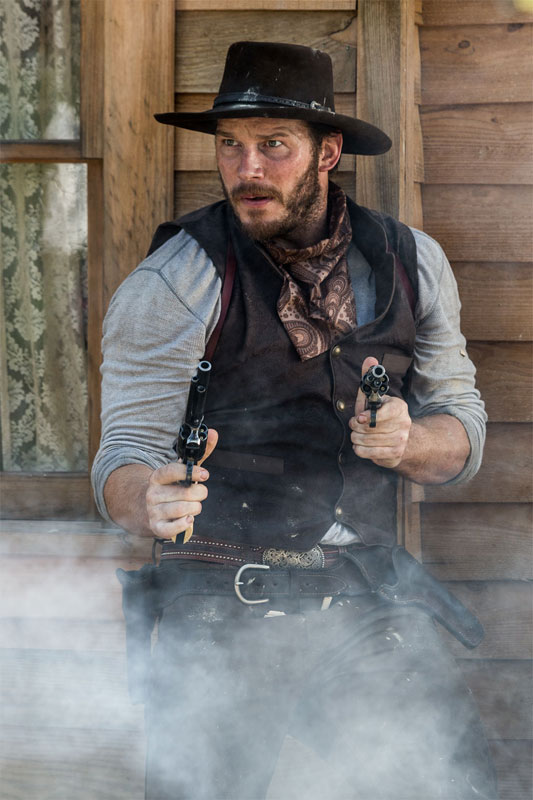 is not a remake of the 1960 film of the same name — it has similarities, but is far better than the "original" in every way. It's actually a mashup of several earlier western films with an original twist and it's a whole lot of fun to watch if you like westerns, plenty of action, the 1870s time period and/or hanging out for a couple of hours with a bunch of hilarious, macho guys who enjoy great camaraderie over the course of the film.
It starts in the small town of Rose Creek. The inhabitants are churchgoing farmers and shopkeepers who live simple lives. A nearby mine is owned and operated by Bartholomew Bogue (Peter Sarsgaard), who wants the entire town and surroundings for himself. He offers $20 per parcel of land, but these people don't want to move and even if they did, $20 is a slap in the face for these hard-working folks who've put a lot of sweat and hope into farming their homesteads and starting their businesses.
He interrupts the townsfolk while they're having a meeting in the church about this very dilemma and takes over. When they balk at his offer, he shoots anyone who disagrees with him or dares to speak up. One of the men killed is Matthew Cullen (Matt Bomer). His wife, Emma (Haley Bennett), is overcome with grief. She vows to get retribution or at the very least, revenge. She and fellow Rose Creek resident Teddy Q (Luke Grimes) set off to find men who can protect their town from Bogue.
In a nearby town, Emma comes across bounty hunter Sam Chisholm (Denzel Washington), who has just taken down a fugitive. He likes to call himself a warrant officer and at first, he doesn't seem inclined to want to help. That is, until he hears the name Bogue. He suddenly takes an interest in Emma and Teddy's plight. Over the course of the film, Sam rounds up six more men, some of who fought in the Civil War and lost everything, but none of whom have families.
The movie was filmed in Louisiana and New Mexico, and the surroundings and the western town built for the movie are a sight for sore eyes. The beauty of the location gives off an air of peacefulness and serenity, until it's marred by violence and gunplay. And there is plenty of gunplay, as well as fighting with knives and other weapons. In fact, the last half hour of the movie is one big battle.
Leading up to it, however, we get to ride along with these men who bond, joke, and swagger. Even knowing there will be a huge plate of violence served at the end, the journey is worth it.
The big difference about this movie in comparison to the 1960 movie with the same title is the character Emma Cullen. Emma never stops in her quest to get justice. And she doesn't hand the job over to the men — she's in for the fight all the way to the end. She's not having as much fun as they are throughout the movie, but that's because the outcome means everything to her. She's a new widow and she doesn't know what will happen to her, but she wants Bogue brought down. At any cost.
Chris Pratt as Josh Faraday was an excellent addition to the cast and has a number of funny lines, many of which he ad-libbed. In fact, I would have to say he steals the show right out from under Denzel Washington's feet. Faraday, as Pratt plays him, is a memorable, funny and interesting character with a quick mind. He's always thinking, even when the focus isn't on him.
The other five actors that make up the team of seven were memorable as well — Byung-hun Lee as the tough-as-nails Billy Rocks; Ethan Hawke as the charming Goodnight Robicheaux, who's lost his nerve after seeing too much death; newcomer Martin Sensmeier as the quiet native with a strong presence and Manuel Garcia-Rulfo as the rough-around-the-edges outlaw who enjoys a good fight. It's clear as you watch the film that these actors had a great time shooting The Magnificent Seven.
Most impressive of all, however, was Vincent D'Onofrio as Jack Horne. Playing a mountain man who's gone off his rocker since losing his family, D'Onofrio had a higher-pitched voice than his natural tone and gained weight for the role to the point where he was almost completely unrecognizable. Actors don't usually get Oscar nods for this kind of a movie, but hopefully the Academy takes him into consideration. It can't be easy to completely lose yourself in a role like that — his characterization was astonishingly impressive.
To sum it up, the movie is an escape from our 21st century lives to a time that should have been fairly peaceful, but for the residents of Rose Creek, it unfortunately isn't. Instead, it's a terrifying high-stakes battle for them, but the events as they occur are exciting and satisfying to watch unfold onscreen as a number of good people take on an evil dictator.
I give The Magnificent Seven 8 out of 10 stars. ~Alexandra Heilbron
If you have seen The Magnificent Seven yourself and would like to rate/review it, you can by clicking here.