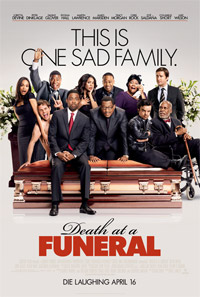 Want to "punk" the prankster in your life? Chris Rock will help you out!
In the spirit of the upcoming comedy Death at a Funeral, Sony Pictures has created "The Make Your Eulogy" feature, which allows you to customize a fake eulogy for a friend or for the jokester in your life—read by funnyman Chris Rock!
Click here to personalize a eulogy that Chris Rock will perform.
Death at a Funeral features an ensemble cast including Chris Rock, Tracy Morgan, Regina Hall and Zoe Saldana, and follows a family that gets together for two funerals: one for a beloved husband and the other for a father. But as the family spends time together, festering resentments explode, ugly threats are made and shocking revelations get in the way of a smooth reunion.  Opens April 16th.