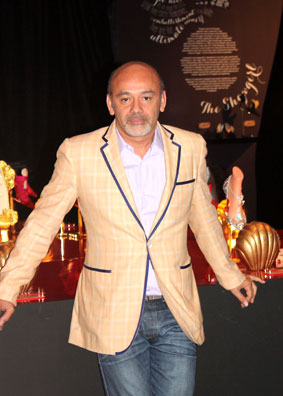 What is one thing Blake Lively, Gwyneth Paltrow, Angelina Jolie, Sarah Jessica Parker and Amy Adams have in common? A pair of Louboutins.
The red-soled shoes have become a regular on the matching red carpet since their creation in 1992 and the iconic brand links back to the legend himself, Christian Louboutin. The footwear designer opened his first store in Paris more than 20 years ago and has since expanded to 73 stores worldwide, selling an average of 700,000 pairs annually.
Now fans of the designer's work have the opportunity to step onto Christian's own playground, where over 250 shoes are on display, at the Christian Louboutin Design Exchange Exhibition. First revealed in London, England, Toronto has been selected to be the North American debut for this highly celebrated exhibition.
"It's such an international city," says Christian, who last came to Toronto to see the Bata Shoe Museum. "There's something about Toronto, the enthusiasm of the people here, that I remembered."
This isn't simply a regular exhibit, though. The Christian Louboutin at the Design Exchange explores his career and most iconic creations and includes sketches and personal artifacts for a thorough experience.
As soon as one walks in the entrance, they're exposed to a very dramatic and theatrical environment where the shoes are displayed as uniquely as their design; from a rotating carousel to an over-sized spinning top. Quotes straight from the mouth of Christian, such as, "These boots are made for walking, but that's not just what they do" adorn the walls and bright lights spotlight the pieces.
Those visiting the exhibition will not only experience an entertaining and visually stunning display, but will also learn about the design process as they get an up-close and personal look at Christian's unique creations. There is even an accurate, to scale, replica of Christian's Paris atelier.
So where does one of the world's biggest and renowned designers go to find inspiration? "When I'm designing summer shoes I stay in my house in Egypt or travel to visit friends in Brazil. But when I'm designing for winter, I head to my cottage," he says. "If it's cold then that's great, but if not then I turn off the heating! I love working there, but I have difficulties working anywhere that I can see a garden. I love to garden."
After being exposed to the exhibit, it's clear that Christian is not simply a shoemaker, but an artist, and one whose legacy will continue to grow. ~Naomi Leanage
Christian Louboutin at the Design Exchange will be in Toronto from June 21 to September 15, 2013. Check out our gallery of what you can expect to see at the exhibition below.