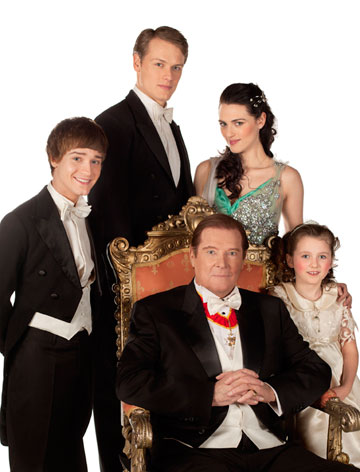 Just in time for the holidays, Hallmark Channel has released Christmas at Castlebury Hall on DVD (originally shown on television as A Princess for Christmas). Directed by Michael Damian, the film stars Roger Moore as Edward, the Duke of Castlebury, who invites his grandchildren, Milo and Maddie, to visit him at his castle. Milo (Canadian actor Travis Turner) and Maddie (British actress Leilah de Meza, 8, making her onscreen debut) are the children of his son and daughter-in-law, who tragically died in a car accident just a year earlier. However, because his son married a commoner, Edward cut off all ties with him, and so the children have never met their grandfather.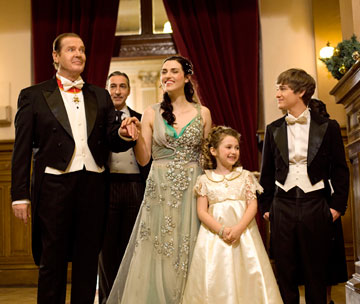 Since their parents died, they've been in the care of their mother's younger sister, Jules (Irish actress Katie McGrath, who appears in Madonna's W.E. and also has a regular role on the TV series The Adventures of Merlin). Jules works in an antique store, but sales are slow, so just before Christmas, she's laid off. When Edward's manservant arrives in America to extend an invitation for the holidays, although reluctant at first, Jules accepts, hoping it will give the children a wonderful Christmas with their estranged grandfather.
The story, which focuses mainly on Jules, who meets a handsome prince and falls in love, is suited for families and especially young girls, who will enjoy the fairy tale romance.