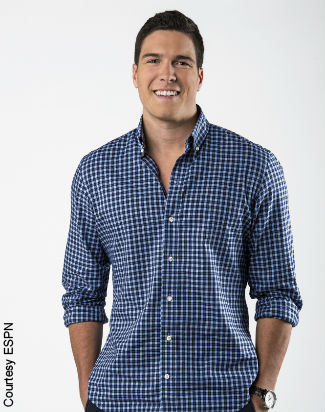 Christopher Reeve's son, Will Reeve, 22, has joined ESPN's SportsCenter as a TV reporter. Will, who was 11 when his father passed away and 13 when his mother, Dana, died of cancer, played a small role in the 2004 TV movie The Brooke Ellison Story, which was directed by his father.
"I'll be different from a traditional SportsCenter reporter because I won't be behind a desk in a suit," Will told The Wrap. "These stories are not going to appear on air and then fade off – they are going to get an extended life digitally and on social media."
Christopher was 52 when he died from complications following a riding accident, and Dana was 44 when she died of cancer in 2006.
"Hopefully they would get a kick out it," Will says of his late parents. "The things I am interested in and passionate about are similar to what they were. My parents definitely define who I am. My dad and I had a huge bond and shared a love of sports. I hope they would be proud and say, 'Great job,' no matter what. Then my dad would probably tell me to straighten my tie!" he laughed.